Now into our second year ...
On 1st March 2008 we celebrated our first anniversary and members enjoyed a day of free squash.
2007 had been an exciting first year for the Club and one in which we needed to consolidate and build up our membership.
At our AGM on 20 May, the suggestion was for a small increase in the membership fees, to be agreed subject to this being accompanied by a commitment for our Committee to assess the possibility of introducing an on-line court booking arrangement.

This was subsequently agreed with effect from 1 June 2008, as follows: Seniors - £60; Juniors (in full time education) - £30 or £50 for 2 children from same family; and Family membership (2 adults & children) - £90.
The AGM agreed Officers of the Club for 2008-2009 as follows:-
Chairman - Mark Davies,
Secretary - Jim Tunley,
Treasurer - Louise Jones,
Team Reps. - Garry Fisher, Andy Bunning and Sian Hughes,
Schools Liaison - Margaret Meadowcroft,
Maintenance - Gareth Williams,
Ordinary Members - Craig Stevens and Kevin Jones.
Two significant developments for the Club were started during 2008.
First, the Club's new website was further developed by Jim Tunley and went live during April;
Second, as agreed at the AGM, through Andy Bunning, the Club's Committee started enquiries into the costs and benefits of an on-line squash court booking system, with a trial period subsequently arranged to help us evaluate whether this was worth taking on.
During 2008 the Club understood the need to employ a cleaner and Garry Fisher's sister-in-law, Sarah, started to come in once a fortnight to keep the place clean and tidy. Important also was that during the summer period, our cleaning costs were being supported by the Cricket Section.
Our Teams during 2008 ...
The new Club had entered Teams in the North Wales and North West Counties Squash Leagues, including a Ladies Team into NWCSL, for the first time - hear's how well they achieved during that first year:
NWCSL Ladies League Division 2a (2007/2008) - Our Ladies Team finished in a superb second place behind the team from Neston Cricket Club.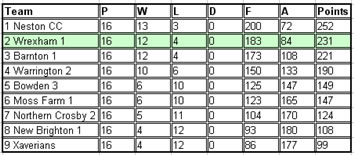 NWCSL League Division 3 South West (2007/2008) - Our Team achieved a fifth place (from fourteen).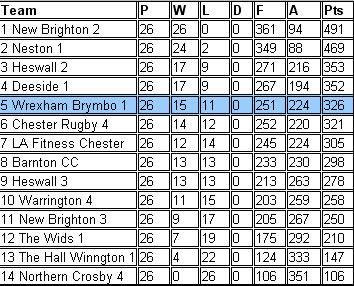 These first year performances were most encouraging and during the year, through to the 2008-09 season the Club would steadily introduce and encourage a blend of youth and experience into both teams.
In particular we were fortunate to have a good crop of our juniors providing a real contribution to each side. Each had developed through the Club's Junior Coaching Programme – they were Hannah Davies , John Evans, Llinos Evans, Emily Jones & Alice Jones .
By Christmas 2008, our Thursday NWCSL Team were struggling as injuries had taken their toll. It was so serious that only a huge effort into the New Year would help them avoid relegation !
Sian Hughes
Wrexham Brymbo Squash Club member and Ladies Team Captain was runner-up in the Over 50 Women's Section of the 2008 Welsh Masters Closed Squash Tournament held at the Swansea Tennis & Squash Club.
This was a great personal result for Sian, which also meant an automatic selection into the Welsh Team for the Home Internationals.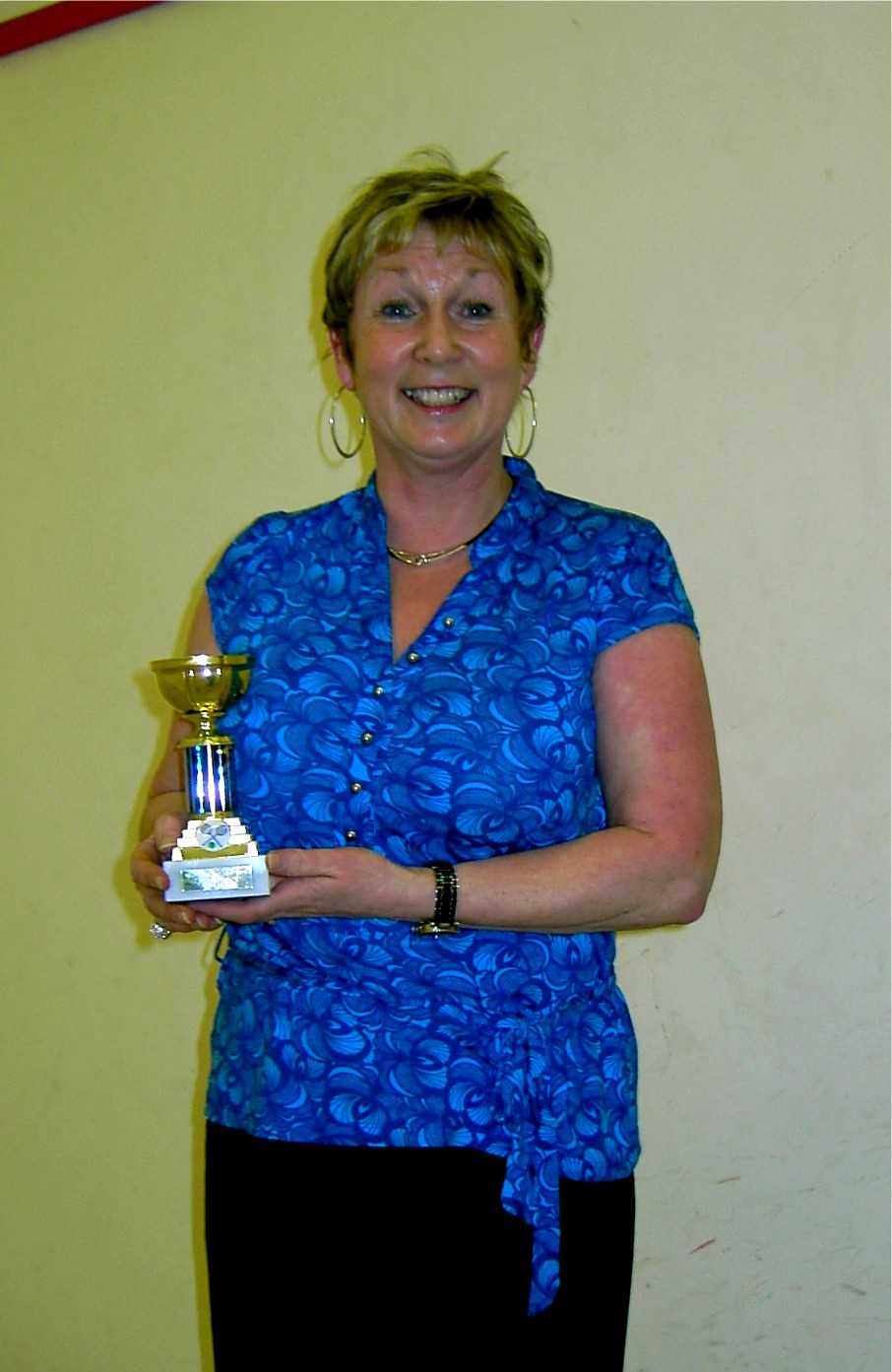 So proud of our Juniors ... in 2008
On 6 March 2008, Wrexham Brymbo Squash Club junior Emily Jones won the Girls Under-13s Welsh Open title with a stunning victory in the Final at Cardiff - this was a major European Grand Prix ranking event.
Emily faced fierce opposition from over 230 top players from 16 different countries across the world, to carry off this prestigious crown and she did it without dropping a game throughout the competition.
Following up this earlier success, Hannah Davies also went on to play a superb tournament and achieved the runner-up place in the Final of the Girls Under-15s Welsh Open competition. For Hannah this was impressive, again in a major European Grand Prix ranking event.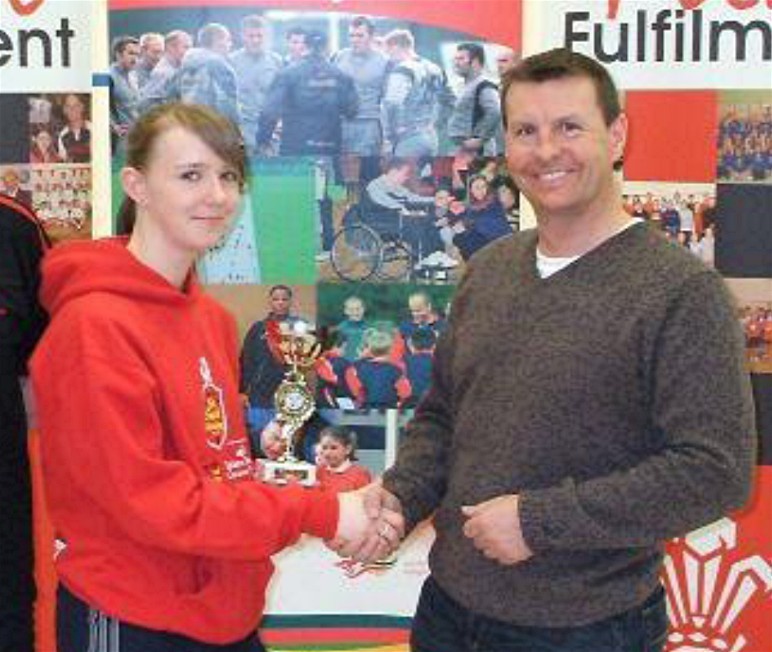 As part of our engagement with local schools, in May 2008, the Club hosted a Red Spot Skills Award event for all those juniors taking part in the Wrexham Schools Squash Programme.
Some of those who took part are pictured receiving their Red Spot Award from Mark Davies, Chairman of the Club - they are Edan Jackson, Natasha Jackson,
Ellie Pugh and Hannah Philpott.
At the British Junior Closed Tournament in October 2008, Hannah Davies, one of the rising stars at the Squash Club, confirmed her national ranking to prove that she is one of the most promising players in the country. Still aged only 15, Hannah came tenth in the Girls Under 17 section of the British Closed Junior Championships held at Wimbledon.
Hannah is an excellent example of how supportive local coaching programmes can assist young people to achieve their goals, linking progress as a junior at the Club through the regional and national schemes. Hannah has complimented the weekly coaching programmes held at the Squash Club by playing on a regular basis with the Club's senior teams in both the North Wales and North West Counties Squash Leagues.
Also in October this year, we congratulated a number of our juniors on their fine performances in the prestigious Welsh Junior Closed Tournament, held at the Saints Club, Prestatyn and Holywell Leisure Centre.
Results were as follows:
Under 17 Girls - Hannah Davies 2nd and Llinos Evans 5th
Under 15 Girls - Emily Jones 6th
Under 13 Boys - Perry Shoemark 8th
Under 11 Boys - Thomas Hewitt 10th.
Another of our promising youngsters, Alice Jones, made her debut in the North West Counties Ladies Squash Leagues representing the Club against Neston on 13th October.
Alice was part of the Club's coaching programme and it was excellent to see such progress with our juniors moving up in this competition.
In November 2008, John Evans one of the Club's Juniors, made his senior Inter Counties League debut for North Wales against Merseyside. Although John narrowly lost his match 3 – 2, he played extremely well and, in the Club, was starting to beat many of our more experienced players !
Also during November 2008, three of our local junior girls excelled in Belgium. They were competing as part of a group from Squash Wales in the Belgium Junior Open. Hannah Davies finished in 8th place having had a real chance to beat the number 2 seed, Andrea Malinova (Slovakia) in the quarter final.
If Hannah had made it through, she would have played fellow North Wales player and close friend, Tesni Evans from Saints Club, Prestatyn. Tesni went on to take the Belgium title, beating the number one seed from France, 12-10 in the fifth set.
Llinos Evans and Emily Jones also made the trip to Belgium and performed really well against strong opposition - both gained valuable experience from this high level competition.
In November 2008, the Club hosted an Area Performance Centre with Coach Andrew Evans as well as the team of Brymbo Coaches. About 25 young up and coming players from across Flintshire, Denbighshire and Wrexham took part in some intensive coaching sessions – these were important in helping to establish a benchmark of ability across the three local Centres.
Swiss success finishes off 2008 in style - on 5th December this year, Hannah Davies confirmed her climb into the European elite by reaching the Final of the Girls Under 17s event at the Swiss Junior Openin Zurich.
Hannah had been ranked number 16 in Europe in her age group and she more than justified her status with another impressive performance that carried her to the finals. Hannah's run of successes was halted only when she came up against her friend Tesni Evans, from the Saints Club, Prestatyn to lose 3-0 in the final.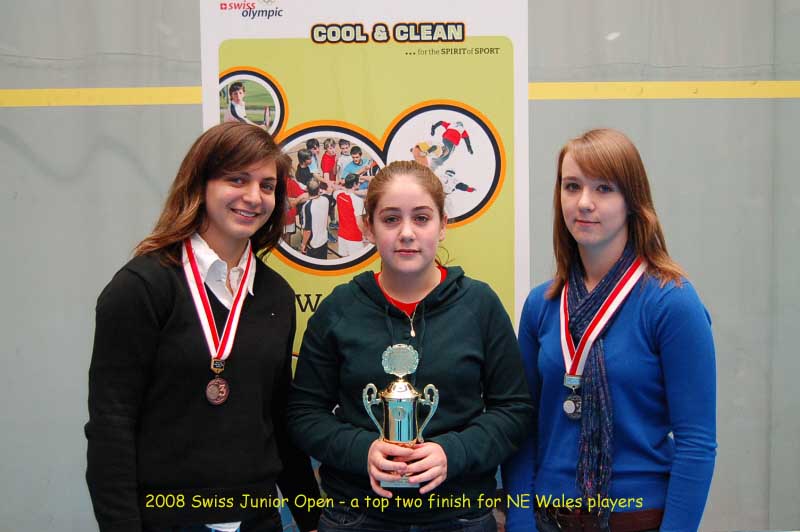 A second Club member, Emily Jones, was part of the strong contingent that returned from Zurich to North East Wales with two winners, five finalists and seven places in the quarter-finals – this was an exceptional performance all round from the team.
.... and finally for 2008 ....
At Christmas time we held the 2008 Club Handicap Tournament with generous sponsorship from Club member, Darren Booth.

Results were as follows:
Winner - Hannah Davies;
Runner Up - Darron Hewitt;
Third Place - John Roberts ;
Fourth Place - Garry Fisher.