We were looking forward in 2013 !
The Club has now been established for over six years; Membership continued to grow steadily throughout 2013 (in particular towards the end of the year) and the monthly leagues were very well supported. Our website attracts very positive comment and, together with our on-line booking system, these are a big influence in the recruitment of new members and increased court bookings.

Our Teams claimed some excellent achievements during the 2012-13 season, notably our First Team who became NWCSL Regional Champions by winning the Division 2 Play-off Final.

The Club also made the final four in the 2013 Annual Wrexham Sports Awards; this was a superb achievement and an acknowledgement of the voluntary outreach work we do through Mini Squash with local Primary Schools - see detail below.
Club's 2013 AGM
The Annual General Meeting of the Club took place on 13 May.

Highlights were the agreement for no change to subscriptions and court light card rates for another year (these rates have not been increased since June 2009). Member Subscriptions for 2013-2014 in the three categories were:
- Senior - £60;
- Junior / Student (in full time education) - £30 or £50 for 2 children from same family;
- Family (2 adults and children) - £90.

The Committee also recommended that the court light fees should be held at current levels i.e. £3.00 per 45 minute session.

Also at this meeting, some option drawings for a possible third court were unveiled.

Click below to see the formal note from this meeting.
Note from 2013 AGM
At the meeting, Officers for 2013-14 were agreed as follows:

Chairman - Mark Davies;
Secretary - Jim Tunley
Treasurer - Kevin Jones
Assistant Treasurer - Mannon Goddard
Teams rep. - Rob Evans
Junior rep. Hannah Davies
Schools Liaison & CWO - Jim Tunley
Ordinary Members - Geraint Jones & Darren Lee.
Some highlights from 2013 ...
Our Fast & Furious weekend ...
The 2013 Christmas competition, our Fast and Furious Tournament worked well despite some unavoidable last minute withdrawals which reduced the number of pool groupings and it was good to see a high standard of competition and our Club so busy.
It was a hectic weekend, with the adults tournament on 13 / 14 December, followed by the Juniors Christmas Tournament on 16 December (see the Juniors Section below for details and photos of our winners).
As always there was huge thanks to Hannah Davies for organising both events.
First Group Winners
Second Group Winners
Third Group Winners
... and thanks to Hannah
Open success for Club members
It was a good weekend (15 - 17 November) for some of our members at the North Wales Open Championships at the Saints Club, Prestatyn.

Hannah Davies (seeded 2) was Runner-up to Champion Deon Saffrey in the main Ladies A event, losing in a hard game 3-0.
In the Mens B event, Darren Lee had to go to a fifth game to defeat Jon Hunter to take the Championship.
The Mens C event Championship was taken by Mark Davies who beat Carl Lace 3-1. Also in the Mens C event, Jack Hayes (one of our Juniors) had a great weekend to finish in third place.

A superb weekend and well done to all players.
North Wales Open 2013 - Hannah, Mark & Darren with Peter Creed (Men's Champion)
Good move for Hannah
In October 2013, Hannah Davies changed her equipment deal to support from American firm, Harrow Sports; she was very pleased with the move.
New sponsorship for Hannah
Students serious about Squash !
On 6 November, a dozen students from Glyndwr University took part in a first student squash taster session at the Club - the session was organised by Hannah Davies through the Students Union and had encouraged all abilities; there were a number of promising players taking part in some excellent competition.
The plan was to continue the sessions for a few weeks, with a view to encouraging Glyndwr students to join the Club as well as making this "open" format a regular event.
Students' Taster Session
Sports Sections Challenge
The annual Sports Sections Challenge evening of knockout competitions for Pool, Darts, Dominoes and Snooker, which concluded with a General Knowledge Quiz, took place on 17 October and thanks to those members who turned up to represent the Squash Club.
2013 Fresher's at Glyndwr University
Thanks to Hannah and Jim, we were represented at the 2013 Glyndwr University Fresher's Fair on 26 September - they took with them a Mini Squash wall. The aim was to encourage students of all abilities to consider playing squash at the Club as well as seeking out students who would be prepared to help out with our Mini Squash Schools Programme.
On the day we "signed up" around 25 potential players and they were later invited to the Club to take part in a taster session (see above).
2013 Fresher's Fair
2020 Olympic bid fails
There was huge disappointment that Squash failed in its bid as a new sport in the 2020 Olympic Games in Tokyo.

Depite the excellent ten year SQUASH 2020 campaign to co-ordinate support for Squash to become part of the Games, delegates to the International Olympic Committee (IOC) in Buenos Aires, Argentina voted on 8 September to reinstate Wrestling - the votes as follows: 49 for Wrestling, 24 for Baseball-Softball and 22 for Squash.
Beyond our control ... !
Following three days with no hot water at the end of August, this due to a gas leak on the Sports Complex site, we then lost electricity on 4th September - because of some essential work outside of the Complex, which also affected the local community.
2013 Club Champion - John Ashton
On 29 June, we congratulated John Ashton on his Championship victory in the 2013 Club Championships.
All four top seeded players came through to the semi final stage. On Finals Day we were treated to some excellent squash.

First up was the Third / Fourth Play-off match between Darren Lee (3) and Rob Evans (4) - Darren came through strong to win it 9-6; 9-4; 9-5.

Next we had the battle to become 2013 Club Champion - the two top seeds were Jonathan Davies (1) and John Ashton (2). This was a fascinating competition that started earlier that evening with Jonathan sitting at home waiting for his promised lift (from John!!).

On court, Jonathan took the first game 9-0 without John even getting hand-in ! John had to dig in and he did so superbly to win the next two games 9-5 and 9-4. Those present witnessed some truly excellent all-court squash and things became even more interesting as Jonathan took the fourth game - 9-0 ! What is that all about ?
And so it was down to the wire and another enthralling game which went back and forth until John came through to win the final game 9-5.
John Ashton 2013 Club Champion
Club Championship Finalists
In the Plate Competition, the Final had to be deferred until 5 August - the match was played between Paul Murphy and Mike Povey - Paul edged out Mike to take the title.
Club Championship Plate Finalists
Masters weekend for three
Three Club members travelled to Cardiff to take part in the Bourse Welsh Masters Open 2013 at the Sport Wales National Centre over the weekend 14 - 16 June.

John Ashton made it to the Final of the Mens Over 40 event, having beaten Darren Lee in the Semi Final, but went down 3-1 to Dallas Hayvice.

In the Mens Over 55 category, Mark Davies also got to the Final but struggled with injury and eventually lost 3-0 to Hugh Griffith. Well done to all three.
Glasgow call for Hannah
As part of the Welsh Team, Hannah Davies was invited to travel to Glasgow at the end of May 2013 for special preparations ahead of next year's Commonwealth Games , to be held in the City.
Also travelling with Hannah was Tesni Evans from Rhyl - Tesni is the Welsh number one and a full time professional player.
Hannah & Tesni on court
Hannah at Europeans
Hannah Davies was a member of the Welsh contingent (Ladies and Mens) as they took part in the 40th European Team Championships in Amsterdam over the weekend 1-4 May.

With a record number of competing nations, Hannah was part of a team of four that competed in the Ladies Division One, Pool B group against Ireland, France and the Czech Republic.
Both Mens and Ladies Team titles were won by England, while Wales Ladies finished sixth (from eight) in Division One and the Welsh Men finished third (of eight) in their Division Two.
European Team Championships at Amsterdam
Wrexham Brymbo are North West Regional Champions
Congratulations to our NWCSL First Team on beating Brooklands 1 by 4-1 in the Division 2 Play-off Final at Prestwich on 27 April.

See Teams Page for a match report of the Final.
Nick Gatward
On 15 April, it was with great sadness we reported the death of Nick Gatward.

Senior members remember Nick as one of the most talented players around the Chester / Wrexham area - he represented England in the Masters Home Internationals in April 2004 and, in February 2005, won the British National Masters Over 45s title in Manchester, for a second time.
Nick Gatward
Leaders Award success
Eight candidates took part in a six hour Leaders Award run by Wales Squash & Racketball (WSRB)at the Club on 13 April.

It was an opportunity to understand the importance of Mini Squash and how it plays a vital role in a child's early squash development. All candidates created their own lesson plans under the headings of Technique, Tactics, Movement, Competition, Know the Game and Lifestyle.

Thanks to all who took part and to Mike Workman, WSRB Director of Coaching & Development, for coming up from Cardiff to deliver the course.
Leaders all !
March Leagues had to be extended !
Due to the exceptional and heavy snowfall in and around Wrexham over the Easter period, the Club was closed for a few days and our March Internal League had to be extended by a week.
Snow in April !
All topped up !
Following settlement of the sand behind our new front wall on Court 2, CourtCare came along on 1st March to top it up.

We hoped that the "hollow" sound at the top of the wall (was it in, or was it out ?) will be a thing of the past, though further settlement could occur !
Front wall topped up
Huge honour for Squash Club ...
We were really pleased that the Squash Club had been short listed in this years prestigious Wrexham County Borough Sports Awards 2013, in the "Club of the Year 2013 " category.

We were nominated by Terry Walker, Headteacher at Marchwiel CP School, one of our partner Primary Schools.
As a relatively young Club, to be nominated was an honour that reflects the positive outreach work the Club does with some local Primary schools.

At the Sports Awards Presentation Evening on 21 February, the winners announced were Brickfield Rangers Football Club.
... but, congratulations go to Aled
A fantastic achievement by Aled Goddard, one of our Junior Members, on winning the 2013 Junior Sports Personality of the Year Award.

Aled was one of seven final nominees for this Award and he won for his achievements as a Topper Class International Sailor.
Aled - 2013 Wrexham Juniors Sports Personality
Club Night ...
The Club's Sunday Evening Club Nights took place again over the Winter months with a final session held on 17 March 2013.

These are an opportunity for members of all standards to turn-up and play in a "round robin" of games - subject to interest, we hope these will continue again next Winter.
Elite Award for Hannah
Glyndwr University have acknowledged the hard graft it takes to achieve at an elite level in sport and made an award to ten of their students.
Follow our link for the full story.
Elite students supported
Glasgow 2014 - the hard work starts here
The 2014 Glasgow Commonwealth Games are less than 600 days away (554 at 13 January) and all sports are getting busy after the success of the 2012 Olympics; preparation is paramount and squash is no exception.

Our own Hannah Davies, together with Tesni Evans, Peter Creed, Deon Saffery, Scott Fitzgerald, Dave Haley and Joel Makin will all be involved over the next few months in 5 three-day Welsh national squads, each squad session to take place at the Sport Wales National Centre [SWNC] in Cardiff.
The SWNC has its own sporting labs where players fitness can be tested with the latest technologies as well as ice baths, rehab pools and strength testing all under one roof.
The three-day squads will also look at nutrition and the team will have the expert advice throughout. As well as looking at fitness, stamina, recovery and speed work, each squad will be on the squash courts working on their tactical game and play many condition games.

This is a superb opportunity for Hannah to achieve a personal goal and we wish her and the whole Team good luck over the months to come and for the hard work to pay off on the squash courts.
Hard work - in the gym
Students put through their paces !
On 17 January, some 25 Sports Science first-year students from Glyndwr University were put through a quick coaching session by Mark & Hannah Davies, with help from John Evans.
Through the Club's Partnership arrangement with Glyndwr University these students were using the courts as part of their practical coaching module of which this squash session is an integral part of their degree course.
First Year Students from Glyndwr University
Disappointment at the Nationals !
Despite playing some very strong squash, Hannah Davies left the 2013 Welsh Closed Championships in Cardiff (4-6 January) in a disappinting fourth place !

Hannah was seeded 3 for the tournament and narrowly lost in the semi-final to Welsh No 2, Deon Saffrey (11/5 7/11 11/5 11/5).

In the play-off for third place, she came up against an experienced Jenny Wright and, in a tough match that could have gone either way, lost 10/12 11/8 5/11 11/6 11/9 - a really tight scoreline.

The 2013 Mens Champion is Peter Creed and Tesni Evans was crowned Ladies Champion.
Child Safety & Equity
The Squash Club fully supports and welcomes the work of its National Governing Body, Wales Squash & Racketball in the area of child safety and, as such, members and parents may be interested to see the WSRB Safeguarding Policy & Procedures in Squash document.

"Child Safety - Our Priority"
Equity Policy
The Wrexham Brymbo Squash Club Committee is keen to ensure all matters within the Club are treated with respect and fairness and, as such, have now formally acknowledged and adopted the Squash Wales Model Equity Policy.
To view the Equity Policy, click on the link -

Equity Policy
Our Teams in 2013 ...
The 2013 Teams Meeting took place in the Sports Club on Monday, 20 May - click below for a note from that meeting.
End of Season Report [May 2013]
Regional Champions
Congratulations to our NWCSL First Team on winning their Division 2 league, with two matches to spare and then going on to become North West Counties Squash Leagues Regional Champions in the Play-offs.
Having beaten a team from Vale of Lune in the Semi Finals, they then took on Brooklands 1 in the Final at Fairways Lodge, Prestwich on 27 April.

MATCH REPORT :With some good vocal travelling support, Jonathan Davies playing at 1 was first on court and eased the tension by comfortably beating Paul Runciman 3-0 [Jonathan's effort epitomises the spirit within this team as he had travelled from Ipswich and back again to play in this final].
Next was the Captain, Rob Evans playing at 5, but he lost 3-1 in a tight game to Damien Easy.
At this point, the opposition probably felt they were in with a chance for the match, but then Neil Rawlings stepped on court and played a "Man of the Match" performance, beating Rik Keating 3-1.
With the match score at 2-1, John Ashton was next on court. John played a superb controlled game to overcome Lee Brownson by 3-1 and overall the match was now won.
The final game was between Darren Lee, playing at 3, against Neil Paisley. Despite all of the distractions, Darren came through 3-1.

This result was a huge achievement on behalf of our Club and it meant a decision would now be required at our the Teams Meeting, on 20 May (see above) as to whether or not we should accept the promotion to the NWCSL Premier Division !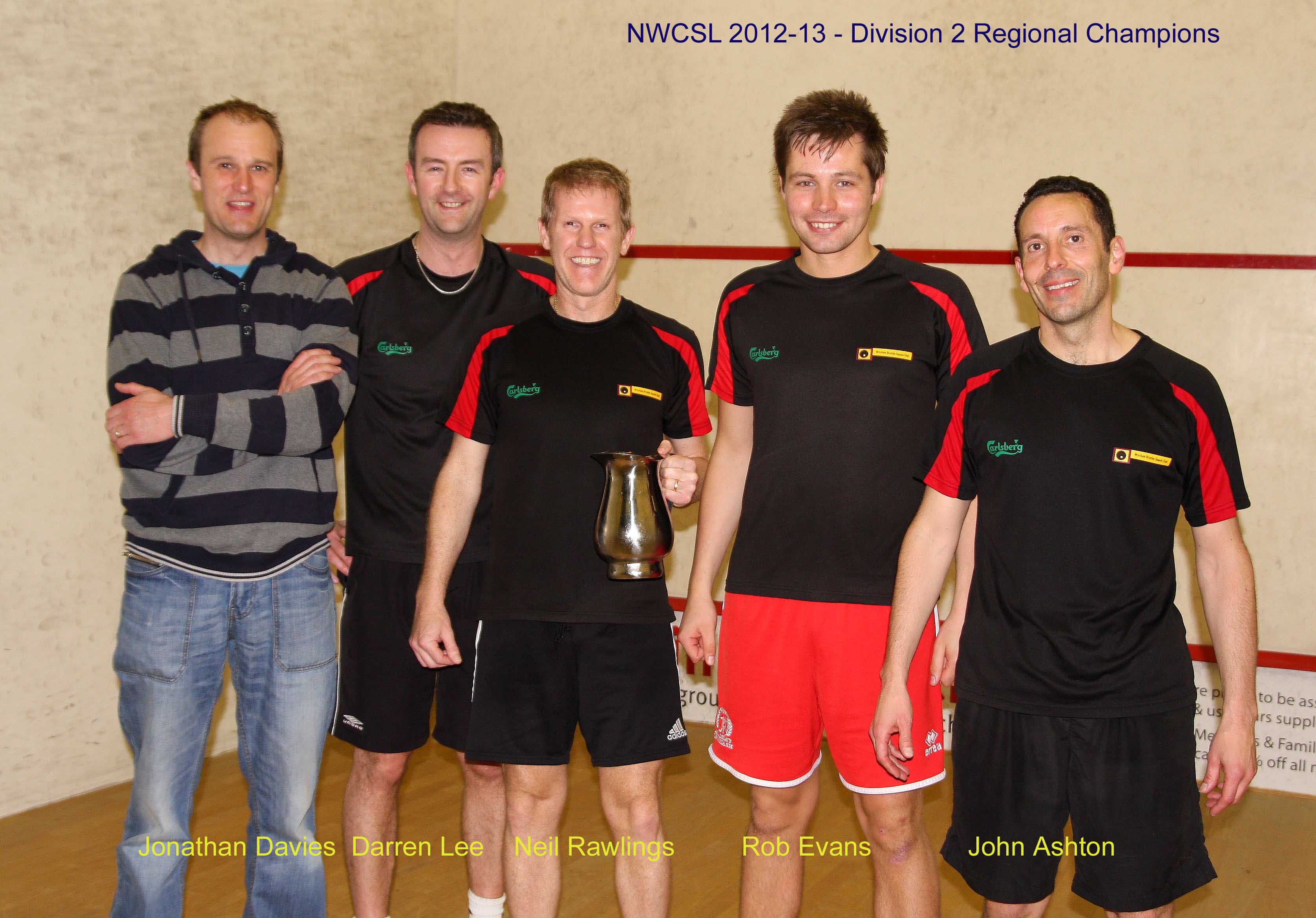 Our NWCSL Second Team narrowly missed out on winning their Division 4 League to come second but do win promotion.

Well done to the players involved with both teams.
NWCSL - Result of appeal against Second Team
On 6 February we received the outcome of the Winsford appeal (see below) from the League; it was good news as they found in our favour.

This meant that result of the match against Winsford 1 on 13 December 2012 stands as a 3-2 win with the Second Team retaining their lead at the top of Division 4 South West at the halfway stage.
In the North Wales Tuesday League the Club had a season of mixed fortune - Our First Team well marshalled by Aleks Stojanovic have had a remarkable season in Division One playing 28 matches and winning every one, quite an achievement and one we do not believe has occurred previously !
The team rounded off their season by winning the 2012-13 North Wales Plate Competition in fine style.
MATCH REPORT:First game on wasAleks Stojanovic, playing his final team match for the Club before moving to Wolverhampton. This was a solid 3-0 win over Jamie Robertson. Next on court was Darren Lee with another strong performance to win 3-0 against Andy Hughes. Up next was the first of the Evans brothers, John Evans, who didn't have it all his own way but came through 3-1 against Mike Tilling. Possibly the match of the evening were the Number One seeds featuring Rob "Lucky Boy" Evans against Iain Stokes - this was a great battle which saw the Lucky Boy hold his nerve, when some big decisions needed to be made, to come through 3-1. Last but not least, Laurie Jones wrapped things up with a 3-0 win over Chris Brown.
Winners of the Alan Johnson Cup were Kent Supplies.
Congratulations to the team on a great season.
North Wales Plate Winners 2012-13
Aleks bows out in style
Our Second Team didn't fare as well, having problems all season with non- availability of players; they were subsequently relegated to Division Two.

However, our Third Team had a good season and have been promoted from Division Three to Division Two. This team included two of our improving junior players, Jack Hayes and Aled Goddard, they have both made major contributions in securing this excellent result.
2012 - 2013 Mid-Season Report [December 2012]
It had been a very successful first half in both the North Wales and North West Counties Squash Leagues - for such a small Club we were punching above our weight !
In the North Wales Leagues: Our First Team, expertly marshalled by Aleks Stojanovic in his first season as Captain, sat proudly on the top of Division One with a 100% league record - quite an achievement considering the strength of the other teams in the division. Apparently, however, Aleks handles his team better than his team fees!
The Second Team managed against all the odds to stay in the top division but were still looking forward to the second half of the season - playing in this top flight can only help raise and improve their standard of squash.
The Third Team, playing in Division Three, have had a mixed season with hopes of promotion fading early on with losses to some unusually strong sides in the division.
On the positive side youngsters Jack Hayes and Aled Goddard performed very well against some of the more experienced players in the division and Team Captain, Mike Povey has given debuts to players who have never played team squash before, namely John Hayes; Andy Morris; John Crump; Mike Roberts; Andy Offless and Kevin Roberts (apologies if anyone has been missed out).
Our two Thusday Teams in the North West Counties Leagues (NWCSL) have had a great first half of the season.
The First Team continue to impress at the top of the Division 2, with high hopes of remaining there if they can field a consistent team for the second half.
All team members have played extremely well, especially when some of the top players have been unavailable. John Evans; Pete Davies and debutant Craig Stevens (100% record) all played their part in this respect.
This team could go on to win the league and reach the prestigious First Division - it will be difficult, but you never know!
Meanwhile, our newly formed Second Team had an equally impressive first half in Division 4, topping the league with an 100% record after their last match win against Winsford who were in second place.

Unfortunately, the Winsford team have protested to the League, claiming that we fielded a player who was too highly ranked for Division 4. (We were actually given permission from the NWCSL by e-mail but they have decided to hold a meeting early in the New Year to consider the matter further !
The implications are that if the Winsford protest is upheld, then Wrexham would lose the match 5-0) - we will keep you informed of the outcome.
In conclusion, all our teams were very successful, we hoped this may continue into 2013.
Our Juniors in 2013 ...
December 2013
Our Christmas Tournament ...!
After a couple of weeks of preparation, we played the 2013 Juniors Christmas Tournament on 16 December.

We saw some excellent squash and all seemed to enjoy the event.
Our thanks to Hannah, Margaret, Mark and Jim for their organisation and marking of matches on the night.
All our winners are below.
November 2013
Juniors have busy weekends !
Two of the Club's junior players were involved in the North Wales Boys Under 19 Inter Counties matches in Manchester on 24 November, playing Lancashire and Durham.
And again, over the weekend 30 November / 1 December, both Jack Hayes and Perry Shoemark were in Cardiff for the 2013 Welsh Junior Closed Championships .
Jack's doing well ...
Congratulation to Jack Hayes - in the November Junior Rankings from Wales Squash & Racketball, Jack is shown as Sixth in the tough Boys Under 19 Category.
Scouts promise !
As a first for the Club, we hosted a Scout Group squash taster session on 11 November and thanks to Mark and Jim for working with such a large number and keeping it fresh for 90 minutes !
Rhostyllen juniors at the Club
Following on from the Mini Squash activity in school, Year 4 pupils came up to the Club on 8 November to try out their new skills on a full size court. Thanks to Tom Trueman for his support on the day.
Rhostyllen Juniors at the Club
October 2013
Break in Junior Coaching
Junior coaching (including the APC Block) concluded on 21 October for half term.
The final session of 2013 started on 4 November with the 6.15 group reverting to the regular single coaching session (until 7.00 pm).
Inter Counties for Jack & Nia
Two of the Club's junior players were selected to play in the Inter Counties Junior Squads over the weekend 12 - 13 October.

Jack Hayes travelled to Merseyside as part of the North Wales Under 19 Boys Squad, while Nia Johnstone travelled down to Buckingham as part of the North Wales Under 13 Girls Squad. Congratulations to both players on their selection.
New school for Mini Squash
The Club, through Hannah Davies, Jim Tunley and Tom Trueman, put on a Mini Squash session for Year 4 pupils at Rhostyllen CP School on 11 October - there was a second session at the School before all pupils were invited up to the Club for a taster session.
Year 4 at Rhostyllen CP School
September 2013
Good Open weekend for Jack ...
Congratulations to Jack Hayes who took part in the 2013 Welsh Junior Open in Cardiff over the weekend (27 - 29 September).

Jack was playing in the tough Boys Under 19 event and in his first round match, against the Irish player Joshua McVeigh (who finished 8th), he narrowly lost 11/4 11/9 13/11.
Jack went on to win two and lose one match over the weekend and finished in 11th place overall.

This is a very good result for Jack and is testimony to the excellent progress he has made in developing his game - well done.
Junior Coaching starts again ...
Our Junior Coaching Programme commenced again on Monday, 9 September with three sessions from 4.45:-

4.45 - 5.30 Beginners Group;
5.30 - 6.15 Intermediate Group; and
6.15 - 7.00 Advanced Group .

New juniors are always welcome.

A five week block of Area Performance Centre sessions also started at the Club on 23 September from 6.15 pm. By invitation only, these longer sessions were designed for juniors who show promise and who, we felt, would benefit from additional coaching.

Members of the APC were also invited to attend a series of North Wales Academy Squad 2 Training Nights at Deeside Leisure Centre.
Organised by Wales Squash & Racketball, the aim was to hold 25 sessions during this season on Friday evenings through to July 2014.
These sessions concentrate on basic ball work, physical work and some matchplay / competitive play.
Eye Protection - our Policy
At the start of another season and a new Junior Coaching Programme, it was important for everyone to understand the Club's approach to Eye Protection - a policy which is also adopted by Wales Squash & Racketball (WSRB).
August 2013
Juniors Summer Squash
The formal coaching programme may be taking a break but, on each Monday during August, we will run Juniors Summer Squash where the emphasis will be on play and a bit of fun.

Starting on Monday, 5 August at 4.00 pm and then over the following three weeks, juniors are invited to come along for an hour long session.

The first session will be from 4.00 till 5.00 (beginners group ), then from 5.00 till 6.00 (an intermediate group), followed from 6.00 till 7.00 (an advanced group).

If you need any more information, please contact a member of the Coaching Team.
July 2013
All winners at the Summer Tournament
With some of our juniors not able to attend, we played this years Summer Tournament in three groups.
Well done to all players on some excellent squash.
Summer Tournament - First Group
Summer Tournament - Second Group
Summer Tournament - Third Group
June 2013
Juniors triumph in Tri Match
Congratulations to the seven of our Junior players who took part in the Tri Match against Llanfyllin and Newtown at Llanfyllin on 15 June.

The Wrexham Brymbo Team came through as overall winners - well done to all our players: Jack Hayes, Jazmine Hughes, Thomas Koscinski, Katie Hayes, Owen Platt, Finlay Ashworth and Cameron Dennis.
Huge thanks to Margaret and all of the parents for their support to the team.
Team at Llanfyllin Tri Match (Cameron absent)
Thomas, Owen & Katie at Llanfyllin
APC event at Saints
Some of our juniors played in the APC event at the Saints Club, Prestatyn on 10 June - this was organised by Wales Squash & Racketball; see below for their report.
May 2013
A new School to Mini Squash ...
The Club's coaching team visited Victoria Primary School with the Mini Squash Experience for the first time during April and May. They visited the school for three hour-long sessions and then the pupils were invited to an on-court "taster" back at the Club.
The superb session at the Club was held on 15 May and thanks in particular go to Hannah and Chris for such an enjoyable event.

This current initiative comes through the Community Pathways Scheme run by the Council's Sports Development Team (thanks to Dean Yarwood) and the hope is to introduce mini squash into a number of schools that are part of the Clywedog High School hub.
Mini Squash at Victoria Primary School
April 2013
North Wales win at Inter Counties
Congratulations to the North Wales Girls Under 13 Team on winning the Inter Counties Plate Competition on 28 April.
The Final was played at Kenilworth Lawn Tennis and Squash Club where the North Wales team beat teams from Warwickshire, Kent and Northumbria.
The North Wales team was Nia Johnston (Wrexham Brymbo), Layna Beattie and Emily Jones.
Junior Coaching back after Easter break !
The Monday evening Junior Coaching sessions (4.45 - 7.00) commenced again after the Easter holidays; the programme continued through until the schools finished for the Summer, on 15 July.

Arrangements for the next block of Area Performance Centre training sessions were also agreed with Wales Squash & Racketball and Block 4, this started on 26 April (for eight weeks) until 21 June.
March 2013
Their biggest challenge yet !
Two Club members travelled to Cardiff over the weekend 8 - 10 March to compete in the 2013 Welsh Junior Open.

Both Jack Hayes and Perry Shoemark played in the highly competitive Boys Under 17 category and came up against a tough international entry.
Juniors host inter-Club match ...
A number of our Junior members took part in an excellent match against youngsters from Llanfyllin and Newtown at the Club on Sunday, 3 March.

This is a three-way event, on a home and away basis, with a view to testing juniors against their peers at these other developing clubs from mid Wales.

There was a real buzz at the Club as over 40 matches were played during the day; thanks go to the volunteers and all the young people for making it such a success and, in particular, to Mark & Hannah Davies for their considerable organisation skills on the day.
February 2013
Aled wins the big one ...
Junior member, Aled Goddard, has won the very prestigious 2013 Wrexham Sports Awards, on 21 February, in the catogory "Junior Sports Personality ".

Aled, who is a member of the Wrexham Area Performance Centre and also plays in the North Wales Leagues, for our Third Team, won it not for his squash achievements but for his sailing (see below) as part of the Welsh National Laser High Performance Squad.

Our congratulations to Aled on a magnificent achievement.
Aled Goddard - International Sailor
2013 Wrexham Junior Sports Personality
January 2013
Stars of the future ...
On 28 January, nine members of the Wrexham Brymbo APC travelled to The Saints Club, Prestatyn to play in a match against the APCs also being developed in Flintshire and Denbighshire.
Around 30 young people took part in this excellent get together at which, it seems, the future of squash in North East Wales is assured.
Coaching Programmes hit by weather ...
Our Junior Coaching commenced again on 7 January - we had such an excellent turn-out that it necessitated a re-think of groupings.

We also started Block 3 of the Squash Wales' Area Performance Centre (APC) initiative on 11 January - this was an eight week block of sessions designed to push some of talented juniors a bit harder !

Weather conditions around Brymbo on Friday, 17 January did, however, leave us with little choice but to cancel the second APC session, however, the bad conditions did not stop our Monday Junior Coaching on 21 January and many of our juniors did well to get through !

Members of the Wrexham Brymbo APC were also invited to take part in match against the APCs being developed in both Flintshire and Denbighshire - this took place at The Saints Squash Club in Prestatyn on 28 January.
December 2012
Performance Centre Tournament
On 14 December we held a small Christmas Tournament for members of the Area Performance Centre - following some fine squash, our winners were:
Group 1 Winner - Aled Goddard; Runner-Up - Jason Fung
Group 2 Winner - George Hughes; Runner-Up - Jazmine Hughes .
Congratulations to all participants on an excellent evening.
A Christmas Tournament !
There was some good and competitive squash played at our Juniors Christmas Tournament on 10th December with everyone a winner.
Many thanks again to Hannah for her organisation of this event.

We wish all of our Junior a super Christmas break and we look forward to seeing you when the 2013 coaching programme gets going again when the schools return, on Monday, 7 January.
Christmas Tournament - First Group
Christmas Tournament - Second Group
Christmas Tournament - Third Group