Club faces some major expense
The Club has now been up and running for over five years and we continue with some good momentum both in attracting new members and, very positively for the 2012-13 season, we would field a new (second) team in the North West Counties Leagues.

In 2012, we also had to face the reality that our recent work to patch up the front wall of both courts had been in vain and, inevitably, a major decision was taken to bring in professional advice (more of that later).
Membership remained steady throughout 2012 and the monthly leagues were very well supported. The Club's website was still an influence in the recruitment of new members and our on-line booking system certainly helped maintain an increase in the number of court bookings.
At our AGM on 14 May, the Officers for 2012-13 were agreed as follows:

Chairman - Mark Davies;
Secretary - Jim Tunley
Treasurer - Kevin Jones
Assistant Treasurer - Mannon Goddard
Teams rep. - Rob Evans
Junior rep. Hannah Davies
Schools Liaison - Jim Tunley
Ordinary Members - Geraint Jones & Darren Lee.
Fees:The AGM agreed a recommendation from the Clubís Committee to retain Member Subscriptions for 2012-2013 at their previous levels for the three categories:
- Senior - £60;
- Junior / Student (in full time education) - £30 or £50 for 2 children from same family;
- Family (2 adults and children) - £90.

The Committee also recommended that the court light fees should be held at current levels i.e. £3.00 per 45 minute session.
Maintenance: We still had problems with the front wall of Court 2; we knew that to have the whole wall re-plastered by a specialist firm would be a costly exercise and so in December 2011, over Christmas and into the New Year, we decided to close off both courts for their repair and redecoration; work was also undertaken at this time to freshen up the balcony area and the Men's changing room.
This on-going problem with the front wall, particularly on Court 2, was very disappointing, however, following this further repair work, initially it did seem to have improved matters !
View the refurbishment below:-
Court refurbishment 1
Court refurbishment 2
Court refurbishment 3
BUT ... Within a matter of months, this repair work was undone as plaster came off the walls with regular play and so, over the Summer 2012, the Club had little option but to obtain quotes from two of the country's specialist court installers for the renovations now required. We opted to go with CourtCare UK Ltd of Congleton.
Work commenced on Monday, 3 September and by the following Wednesday evening the court renovations work was completed. The courts looked like new and Club players and our visiting teams have all provided very positive feedback on how well they play.

The main elements of the work involved the installation of a CourtTech renovation wall system on Court 2, repairs to the front wall of Court 1, as well as repairs to the undercarridge and both maple floors.

Click on the following links to see work progressing:
Court renovations 1
Court renovations 2
Court renovations 3
Court renovations 4
Court renovations 5
Court renovations 6
Over the weekend 30 November and 1 December, we also had some essential work done to re-decorate the ceiling in the Men's shower area, this following trouble earlier in the year with the flat roof.
Congratulations ... to our new Level Two Coaches
In 2012 we congratulated Margaret Meadowcroft, Hannah Davies and Jim Tunley on achieving their UKCC Level Two Squash Coaching Award . To qualify, the three have had to undertake four days of training and assessments, the last of which took place in January.

Our Club now has four coaches qualified to Level Two (the other being Mark Davies ) as well as several individuals who are qualified to UKCC Level One.
Coaching is an important element for our Club and we continue to encourage anyone who has interest in helping with our junior coaching programmes, to speak with a member of the coaching team.
2012 Club Championship
Our annual Club Championships (including the Junior Championships), were held over two weeks in May with Finals Day taking place on Saturday, 26 May 2012.
The results were as follows:-

Juniors Intermediate - Winner George Hughes; Runner-up Thomas Koscinski; Third Nia Johnstone.
Juniors Advanced - Winner Jack Hayes; Runner-up Jack Hughes.
Championship Plate Event - Winner Kevin Lloyd; Runner-up Jamie Cameron.
2012 Club Championship - Winner Darren Lee; Runner-up Alecs Stojanovic; Third - Hannah Davies; Fourth Mark Davies.
Our 2012 Club Champion
To conclude our Championships, the Club's Presentation Evening was held on the Saturday evening and, to all those who attended, thank you again for your support.
Other 2011-12 Season Awards made on the evening were:-

Most Improved Junior Player - Jack Hayes
Most Improved Player - Aleks Stojanovic
North Wales Leagues Team Player - Kevin Lloyd
North West Counties Leagues Team Player - Neil Rawlings
Young Achiever 2011-12 - Hannah Davies
Clubman of the Year 2011-12 - Jim Tunley
2012 Award Winners
In future, the Club Championships will be played over one weekend in May, at the conclusion of our Teams' season.
Daytime Leagues start ...
A Daytime League commenced in July 2012 with a view to encouraging more play, with those who are able to play, during the day when the Club has plenty of court downtime.
Club continues to raise its profile at Glyndwr
Hannah Davies and Jim Tunley took the Mini Squash Wall and spent a day at the Glyndwr University Fresher's Faire on 26 September 2012, to canvas and encourage new and existing squash players to consider joining "the only Squash Club in town".
This is part of the Club's developing partnership with Glyndwr University, particularly with staff and students from the Sport and Exercise Sciences Faculty.
A long way from home for Jason ...
Through the Club's website, this year we welcomed a new junior member, all the way from Hong Kong !

Jason Fung (16) is a member at the ten court Hong Kong Squash Club and is in Wrexham studying A Levels in Double Maths, Business and Photography at Yale College. When he's not studying, Jason also enjoys Chinese Chess.
Jason with Jack Hayes
Back the Bid - 2020
The world's largest ever squash match took place on Saturday, 20 October: World Squash Day.

Our Club did register to be part of this competition, however, due to a lack of participant numbers within the Club we reluctantly decided not to proceed.

We hoped to carry forward the spirit of the movement to bring squash into the Olympics at the 2020 Games at this year's Fast & Furious Christmas Competition (see later).
Hannah at World Team Championships
From 12-17 November, Wrexham International Hannah Davies was in Nimes, southern France as part of the Senior Welsh Team to compete in the 2012 Women's World Team Championships. It was a superb experience for Hannah as all of the worlds top female squash players were taking part.

The Welsh Team (in team order) comprised - Tesni Evans, Deon Saffery, Hannah and Fiona Murphy. They were part of Pool B with Egypt and Mexico.

The Welsh Ladies finished the week in a very creditable fifteenth place overall - this was particularly good as their tough draw in the competition had them playing against both Egypt (Tournament winners) and England (Tournament runners-up). Well done to all the Team.
Womens World Team Championships website
The Welsh Team
NE Wales Open
Four Club members took part in the prestigious 2012 North Wales Open Championships, at The Saints Club, Prestatyn (1 and 2 December), sponsored this year by Anchor Insurance Services - these were Rob Evans, Hannah Davies, Darren Lee and Jack Hayes

For Jack, in particular, this was an excellent opportunity to experience a higher level of squash.

Well done to Hannah on getting to the Final of the Ladies A event, where she came up against her Welsh Team colleague, Tesni Evans, who took the Championship.
More essential work completed
Work to re-decorate the ceiling in the Men's shower area took place over the weekend 30 November and 1 December 2012, this following problems earlier in the year with a leak in the flat roof.
A BIG festive weekend ... !
Following on from two excellent juniors tournaments (see Juniors Page), the Club held its annual Fast & Furious Christmas Tournament on 15 December and thanks to all those who supported this years competition.

Particular thanks to Hannah Davies for her superb and smooth tournament organisation.

To view images from the day, click on the links below.
2012 Fast & Furious - Group
2012 Fast & Furious - Group 1 winners
2012 Fast & Furious - Other winners
2012 Fast & Furious - Special thanks to Hannah
and ... two stars for the future ! font color>
Club Night set to return in 2013 !
If there is sufficient interest, we hope to start the Sunday Evening Club Night sessions again in the New Year. Members just turn-up and join in for a "round robin" of games with whoever else is available.
Our Teams in 2012 ...
End of 2011 - 2012 Season Report
Welsh honours ...
Four Club members have recently gained international honours in representing Wales this year. See their photo below:
Our Welsh Internationals
North Wales supreme in Cardiff
The North East Wales, Men's and Women's Teams both triumphed over the weekend 19-20 May at the Welsh Inter County Championships in Cardiff.

We believe that this may the first time that both Men's and Ladies Teams have held these trophies simultaneously !

The Men's Team included Darren Lee (Captain) plus Neil Rawlings and Rob Evans from Wrexham, while the Club was represented in the Ladies Team by Hannah Davies. Both teams looked strong all weekend and won their finals on Sunday to clinch the titles - an excellent weekend for North Wales squash and well done to all who took part.
Our two successful Captains ...
Members of the successful Mens Team
North Wales Cup
The Club's Second Team played Saints A in the 2011-12 Season Finale, the North Wales Cup Final on 8 May at Deeside Leisure Centre.
MATCH REPORT - The one that got away !
The match was lost 3-2 but it could have been very different.
Both Rob and John Evans lost to tough and determined opponents, while Craig Stephens and Laurie Jones won through in their matches.
The key match and highlight of the evening was our No 1 seed Neil Rawlings' match against Tesni Evans. Neil went 2-1 up and was 10-0 up in the fifth but a superb clawback by Tesni got it to 10 all. The match could have gone either way and swung back and forth with some excellent squash - Tesni hung on to win 15-13.
A fitting match for the final and well played to all involved.
Almost ... Regional Champions
Our North West Counties Leagues Team achieved promotion to the tough Second Division, unbeaten all season and with two matches to spare.
Unbeaten all season ...
They then competed for the opportunity to win the NWCSL Division 3 Regional Championship and, having won their first play-off match away at Bowdon 4-1, lost their next match away to Prestbury 4-1.
MATCH REPORT - So near, yet so far !
The travelling supporters became quite animated as first match on court saw Rob Evans storm into a 2-0 lead. Rob lost this, however, and we headed into a very tight fifth game which Prestbury went on to win.
The second match on was a rather below par Hannah Davies who, despite wearing her lucky shirt (!) was beaten 3-0.
Next came Mark Davies who played a difficult and quite imposing character - it was another very tight game in which we had the highlight of the evening with Mark's impression of John McEnroe (you cannot be serious !!). Mark regained his composure for a superb 3-1 win.
John Evans was next and having gone 1-0 up, he narrowly lost out to a player he knows he could and should have beaten.
So, unfortunately we'd lost the match before Neil Rawlings had gone on court - Neil played well but the very impressive Prestbury number one won 3-0.
It was a good but frustrating night, which could so easily have resulted in a 3-2 win !
Teams Meeting
We held a Teams Meeting on 29 May - use the following link to view the highlights and agreements.
Teams Meeting - 29 May 2012
2012 - 2013 Season
For the 2012-13 season, we had three teams again in the North Wales Leagues, the Firsts and Seconds playing in Division 1, while our Third Team, with an emphasis on playing juniors whenever possible, will play in Division 3.
This season, the Club put out two teams in the North West Counties Squash Leagues (on Thursday evenings) - following promotion in 2011-12, the First Team played in Division 2 West, while our new Second Team competed in the Division 4 South West League - both leagues held the promise for some squash at a very high standard.
"Loan" move for Hannah ...
Ahead of the new North West Counties Squash League season (started on 27 September), one of the Club's top players went out on a season-long "loan" to local rivals.
It was not an easy decision but, after much soul searching, Hannah Davies agreed to play this season in the NWCSL for Division 2 side Chester County Officers (CCO).

This is the same league as our own First Team, however, due to the strength of that team this year, the fact is that Hannah may only get an occasional game at 4 or 5.
Playing this next season for CCO will guarantee her a game at 2 or 3 - the sort of tough game, week in and week out that Hannah and her coaches at the Squash Wales National Squad want her to achieve, this in support of her continued development ahead of the Team World Championships.
At the Club this news brings mixed emotions; while fully supporting this decision by Hannah, in the future we may need to look at how better we can structure our support for the home grown talents like Hannah (and John Evans for example), to develop them on as players.
Team sponsorship ...
New for this season are the Teams shirts that have been sponsored by Carlsberg UK through their Regional Account Manager, Sam Evans.

The Club was grateful to Sam, but also to Hannah Davies whose initiative sought out this prestigious deal.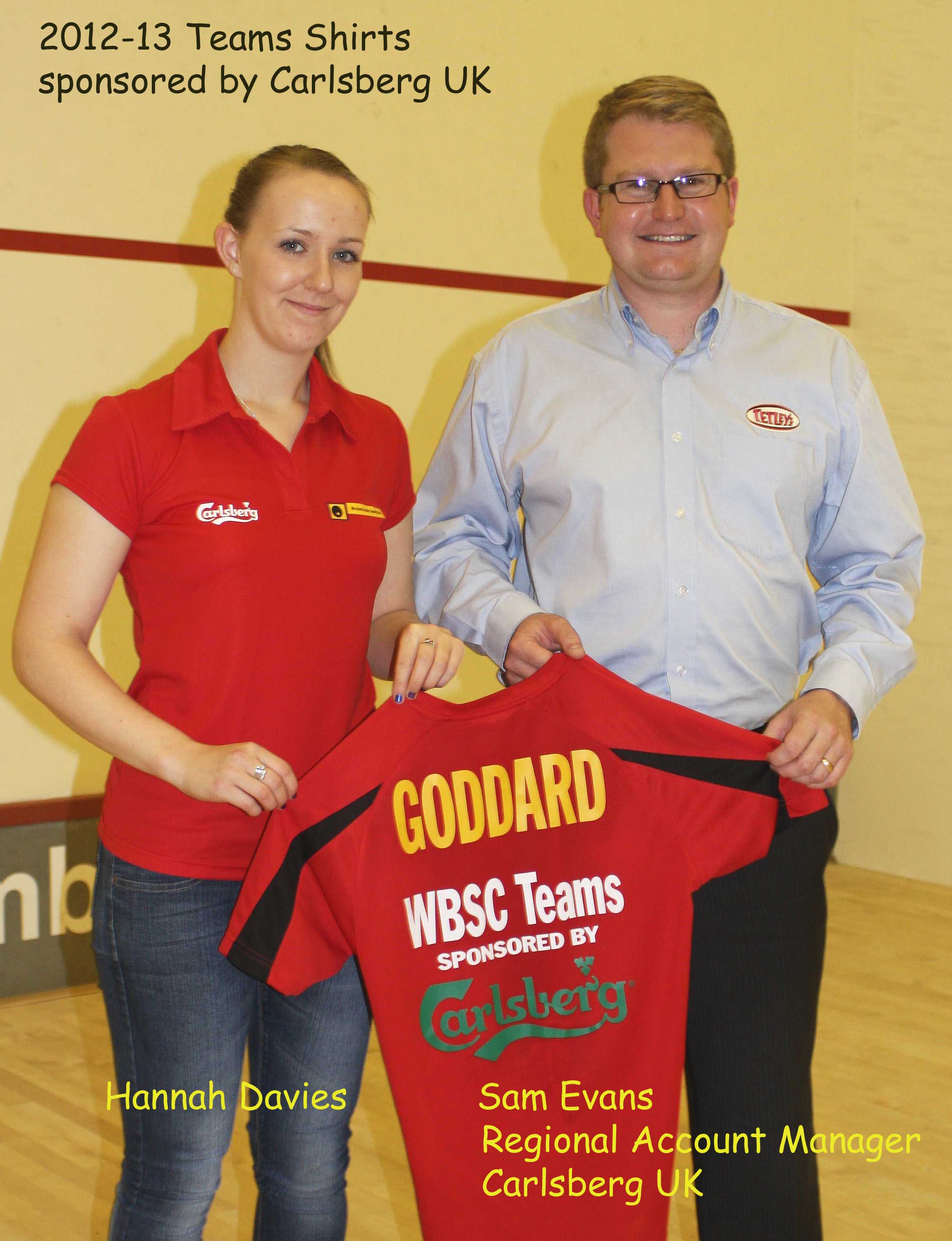 2012 - 2013 Mid-Season Report
A very successful first half in both the North Wales and North West Counties Squash Leagues - for such a small Club we were punching above our weight !
In the North Wales Leagues: Our First Team, expertly marshalled by Aleks Stojanovic in his first season as Captain, sat proudly on the top of Division One with a 100% league record - quite an achievement considering the strength of the other teams in the division. Apparently, however, Aleks handles his team better than his team fees!
The Second Team managed against all the odds to stay in the top division but were still looking forward to the second half of the season - playing in this top flight can only help raise and improve their standard of squash.
The Third Team, playing in Division Three, have had a mixed season with hopes of promotion fading early on with losses to some unusually strong sides in the division.
On the positive side youngsters Jack Hayes and Aled Goddard performed very well against some of the more experienced players in the division and Team Captain, Mike Povey has given debuts to players who have never played team squash before, namely John Hayes; Andy Morris; John Crump; Mike Roberts; Andy Offless and Kevin Roberts (apologies if anyone has been missed out).
Our two Thusday Teams in the North West Counties Leagues (NWCSL) have had a great first half of the season.
The First Team continue to impress at the top of the Division 2, with high hopes of remaining there if they can field a consistent team for the second half.
All team members have played extremely well, especially when some of the top players have been unavailable. John Evans; Pete Davies and debutant Craig Stevens (100% record) all played their part in this respect.
This team could go on to win the league and reach the prestigious First Division - it will be difficult, but you never know!
Meanwhile, our newly formed Second Team had an equally impressive first half in Division 4, topping the league with an 100% record after their last match win against Winsford who were in second place.

Unfortunately, the Winsford team have protested to the League, claiming that we fielded a player who was too highly ranked for Division 4. (We were actually given permission from the NWCSL by e-mail but they have decided to hold a meeting early in the New Year to consider the matter further !
The implications are that if the Winsford protest is upheld, then Wrexham would lose the match 5-0) - we will keep you informed of the outcome.
In conclusion, all our teams have been very successful, so let's hope it continues into 2013.
Our Juniors in 2012 ...
January 2012
New Year Junior Coaching
The 2012 programme of junior coaching recommenced on Mondays and Wednesdays at 4.45 and 5.30, from the week commencing 9 January 2012, with a good number of young players. The eleven week programme ran through to Half Term and then until Easter.

With its Squash Wales accredited coaching team, the Club offered a full range of coaching experience and is always pleased to welcome any new juniors to the programme.
February 2012
2012 Wrexham Sports Awards
Another superb show of local sporting talent was held at Brymbo Sports Club on 23 February where the Marchwiel Dieniol Primary School won the prestigious "Wrexham Primary School of the Year for Sporting Achievement".
The Squash Club was pleased to nominate Deiniol School for this Award, to endorse the partnership that has been developed over the last four years more recently with the Mini Squash Experience, as part of the Wrexham Schools Squash Programme.
An important ethos for the School is to offer all of its pupils the opportunity to take part in a wide range of different sports, with some teams and individuals going on to achieve excellent results.
See the School's representatives with their award:
Primary School of the Year - Marchwiel Deiniol Primary School
Mini Squash returns to Marchwiel
On Wednesday 8 February, coaches from the Club took the Mini Squash Experience to over 80 pupils at Marchwiel Deiniol Primary School and a good time was had by all. We spotted some very promising youngsters throughout the morning and hope that some will soon come along to the Squash Club as part of a taster session.
See photos below of the four Year group that took part.
Year 3 Marchwiel Deiniol School
Year 4 Marchwiel Deiniol School
Year 5 Marchwiel Deiniol School
Year 6 Marchwiel Deiniol School
North Wales 2012 Junior Open
The 2012 North Wales Junior Open took place over the weekend, 3-5 February at The Saints Club, Prestatyn with three Club members taking part.
Sponsored by Metalmin & Co (Mark Davies' company) we had Hannah Davies taking the title in the Under 19/23 Girls event, beating Welsh Team mate, Fiona Murphy 3-1 in the Final.
Other Wrexham Brymbo players taking part were Perry Shoemark, who finished 7th in the Boys Under 17 event and Jazmine Hughes, who was 5th in the Girls Under 17 event.
Through the Club's Coaching Team, the message will always be an encouragement for our junior players to enter these local tournaments. It is good experience for them and also for their parents in following their progress while watching other players from across Wales competing.
New Year, New School ...
As part of the Wrexham Schools Squash Programme, coaches from the Club visited Barkers Lane CP School on 1st February with the Mini Squash Experience. Our thanks to Hannah Davies, Jake Fosterjohn, Lewis Eardley and Jim Tunley for taking time to deliver this programme to four of the School's year groups (see below).
March 2012
Senior Welsh Squad selection for Hannah
Well done to Hannah Davies on a brilliant weekend in Newport (24-25 March), not only did she beat the No 1 seed to win the 2012 Coors Newport Open Ladies Championship , but also confirmed her place in the Welsh Ladies Senior Squad.
Winner at 2012 Welsh Junior Open
The 2012 Welsh Junior Open took place over the weekend 2 - 4 March in Cardiff (this is the top national competition for Welsh Juniors) and two Wrexham Brymbo members were in contention:-
Perry Shoemark in the Boys Under 17s, and
Hannah Davies who was seeded No 1 in the Girls Under 19s.
Congratulations on a superb weekend to Hannah who took the Welsh Girls Under 19 Championship beating again her Welsh Team-mate, Fiona Murphy in the Final by 3 - 1.
This achievement means that Hannah will soon leave this Under 19 grouping as a double champion, having already won the Welsh Junior Closed Championship last November.
In a tough Under 17 Boys group, Perry finished in 20th place.
Our Juniors with Championship Trophy
Hannah with her Championship Trophy
April 2012
200 pupils enjoy Mini Squash
Pupils from Barkers Lane and Marchwiel Deiniol Primary Schools took part in the Club's latest Mini Squash Day, as part of the Wrexham Schools Squash Programme.
A busy day on 25 April saw almost 200 pupils take part in their school and all have been invited to take their experience further, if they wish, at a taster session back at the Club
Our thanks to coaches Hannah Davies, John Evans, Shaun Greenwood, Mike Penlington and Jim Tunley for giving up their time to make this possible.
Click below for images from the day:


Mini Squash at Barkers Lane: warm-up
Mini Squash at Barkers Lane: with Hannah
Mini Squash at Barkers Lane: with John
FOLLOW-UP: At the Taster Session held at the Club on Saturday, 28 April, seventeen pupils attended and had an excellent session with coaches Mark Davies, Mike Penlington and Hannah Davies - see the picture below.
We hope that some will maintain their interest through to the Club's Junior Coaching Programme held each Monday.
New Juniors Club and other changes ...
Following the Easter break, we instigated some changes to our junior coaching programme that included removal of the Wednesday evening sessions.
Commencing Monday, 16 April, session times for junior coaching was from 4.45 until 7.00 pm.
The intention was for groups to be graded according to ability, with the final sessions to be taken by our top juniors - the key emphasis for all of the Monday evening groups was around coaching .
With an emphasis on matchplay, a new initiative started on Saturday, 21 April 2012 - this was our "Juniors Club". This was open to all who took part in our junior coaching programme, each Saturday between 1.00 and 3.00 pm.
We hoped that this new arrangements would be a positive boost to our juniors programme.
May 2012
2012 Juniors Championships ...
All three of our junior groupings (beginners, intermediate and advanced) played matches in the Club's 2012 Junior Championships and winners were:

Junior Intermediate Champion - George Hughes; Runner-up - Thomas Koscinski; Third - Nia Johnstone.

Junior Advanced Champion - Jack Hayes; Runner-up - Jack Hughes
Juniors Championship - Beginners 1
Juniors Championship - Beginners 2
Juniors Championship - Intermediate Group
Juniors Championship - Intermediate Group play-off
Juniors Championship - Intermediate Group Winner
Juniors Championship - Advanced Group
Juniors Championship - Advanced Group Finalists
Senior Team for Hannah at European Championships
From 1st to 6th May, Hannah Davies will play with the elite players in Europe as part of a Welsh Womens Team in the European Team Championships. These will be held in the city of Nuremberg, Germany.
The Team, which comprises, Tesni Evans, Deon Saffery, Stacey Gooding and Hannah are in the tough Division 1 group that includes England, France and Scotland.
The Welsh Mens Team is - Peter Creed, Nick Birt, Dave Hayey, Sam Fenwick and Jordan Davies.
For further details, follow our link to the Championships website:-


July 2012
Juniors travel to Llanfyllin ...
On Sunday, 22 July, Mark & Hannah Davies accompanied a group of our junior players for a friendly match with Llanfyllin Squash Club.

The invitation came from this relatively new mid-Wales Club who are working hard to develop their junior section and is also a response to us hosting them in a match at Brymbo some two years ago. All our youngsters played at least three or four games and we were delighted to be able to use this opportunity for them to play in a different environment.
Many thanks go to our hosts for their hospitality and also to our parents for their support.
More of our Juniors at Llanfyllin
Marchwiel Juniors at the Club ...
Two groups of Years 4/5 pupils from Marchwiel Deiniol Primary School visited the Club for the morning on 13 July and all had great fun as they started to develop their racket skills.

Our thanks go to the Club's coaching team of Hannah Davies and Jim Tunley, for their time in making this activity possible and also to Mr Terry Walker, Headteacher at the Deiniol School for his valuable on-going support.
Marchwiel Juniors Second Group
September 2012
Juniors coaching ...
With the Summer holidays over and our squash court renovations completed it was time for the Club's Autumn / Winter 2012Junior Coaching to start again on Monday, 10 September [4.45 to 7.00] through until Christmas.

We did not commit to starting up the Saturday Juniors Club at this time but do hope that it may return again!
As usual, many of our Juniors have not played over the summer months a situation that, ideally, would change if they were to become members of the Club !
October 2012
Area Performance Centre
During October the Club hosted the first block of four Area Performance Centre sessions, designed to promote higher quality coaching within groups of emerging and talented players within our Club, specifically, those better standard juniors who attend junior section coaching on a regular basis and who show the potential to progress to higher level squads.

This Squash Wales initiative was open, initially, only to eight juniors who were invited to attend but with their continued involvement conditional on each individualís positive attitude, their effort and commitment.

Coaching for the APC sessions, held on Fridays between 7.00 and 8.30, was provided by Hannah Davies, Jim Tunley and overseen by Mark Davies.
North Wales Under 17s Inter Counties
On the 7th October, North Wales Boys Under 17 Team travelled to Cheadle Hulme, Manchester to play against Derbyshire, Merseyside & Cheshire. A tough task for the team of Emyr Evans, Liam Jones, George Thomas, Sam Wallace, Dave Daly (all from the Saints Club) and Perry Shoemark (Wrexham Brymbo Squash Club).
First match up was against Cheshire with a very good performance from the boys who won 4-1.
Next match was against Derbyshire - Emyr Evans came back from 2 games down to record a cracking victory against Adam Turner at No 1. Sam Wallace,and Perry performed extremely well recording another two wins for the team. Another 4-1 score.
We had second place guaranteed by now but still had to play a very strong Merseyside team. George Thomas was out injured for this and all the lower players moved up the order - they found it tough going and the team was beaten 5-0, however, the North Wales team are through to the next stage in 2013 where, with the right draw, they could go on to reach the national finals.
November 2012
Ten invited to the Talent ID Squad
Ten juniors from the Club were invited to take part in the 2012-13 North Wales Talent ID Squad sessions.

These Squads are run by Wales Squash & Racketball, at the Saints Club in Prestatyn, as part of their Junior Development Structure and the offer was for each junior to receive twenty hours of additional coaching over five sessions - all were selected on their potential to improve racket skills, court movement, fitness and determination.

The Wrexham Brymbo juniors invited are:
Natasha Williams,
Nia Johnstone,
Thomas Koscinski,
Ben Thomas,
Finlay Ashworth,
Gareth Roberts,
Owen Roberts,
Poppy Green,
Cameron Dennis and
Katie Hayes
Area Performance Centre
During November the Club hosted the Area Performance Centre, Series 2 - another four sessions designed to promote higher quality coaching for our emerging and talented players within our Club.

At this time, the Club has had to limit the invitation to only eight juniors.
December 2012
A Christmas Tournament
The 2012 Juniors Christmas Tournament on 10 December concluded the Club's 2012 programme of junior coaching (held each Monday) - the 2013 programme would commence again on 7 January.
There was some good and competitive squash played with fun games and prizes for all - an excellent evening when everyone was a winner and we were grateful again to Hannah for her organisation of a superb event.
Christmas Tournament - First Group
Christmas Tournament - Second Group
Christmas Tournament - Third Group
Performance Centre Tournament
On 14 December we also held a small Christmas Tournament for members of the Area Performance Centre - following some fine squash, our winners were:

Group 1 Winner - Aled Goddard; Runner-Up - Jason Fung
Group 2 Winner - George Hughes; Runner-Up - Jazmine Hughes .
Congratulations to all participants on another excellent evening.