Wrexham Squash, our starting point ...
Wrexham Squash was started as an initiative to bring together the two main squash clubs in Wrexham, Sports Connection and the Phoenix Club(which both ran Centres of Development), to promote the game of squash at a junior level (to age 19).
This collaborative and voluntary venture was instigated by a few keen squash players who acknowledged the gap to promote squash locally, in particular by encouraging a sustained and steady growth in the number of younger players who, through organised coaching, would come through to reach their own personal goal in sporting achievement and potential progression through to senior squash.
We had in mind a number of young people whose parents already played at one of the two Clubs, but also to engage with those local primary schools who were supportive and keen to allow their young pupils the opportunity to get involved with the game.
Individuals included Mark Davies, Jim Tunley, Graham (Ossie) Jones, Gary Fisher and John Williams, with the help of Laurie Jones as Coach, as well as some of the parents who helped with transportation to other Clubs.
In these early days we had a good cohort of around twenty plus young people involved, together with a junior schools programme, in particular with the Wats Dyke and Borras Schools. Of special mention was the on-going support and encouragement we received from Alun Evans, Headteacher at Wats Dyke Primary School, as well as Russell and Ann Evans (for their sponsorship).
Encouraged by our parents and schools we became busier and it was important that we got properly organised. As we operated across the two Clubs, it was felt appropriate we called ourselves "Wrexham Squash". This was then formalised in April 2002, with our accounting taken on by Ossie Jones, who opened us a new bank account, our coaching and schools liaison being co-ordinated by Mark Davies, with communications and general organisation through our Secretary, Jim Tunley.
With great encouragement of this new collaborative venture, with the use of five squash courts, was very soon dashed as we lost three courts when, dramaticaly and overnight, we heard of the closure of the Sports Connection Club at the end of 2002 - this was a bitter blow, just as we were getting started !
In 2002, we were working with Will Griffith, Regional Co-ordinator of North Wales Junior Squash (on behalf of Squash Wales), to develop our Centre of Local Development (COLD) at The Phoenix Club. Weekly reports on our activities were submitted via Will to Squash Wales, in an attempt at better monitoring and understanding of the work / activities being delivered across the area.
To encourage our juniors and to keep all parents informed, we produced an occasional series of newsletters and these may be viewed by clicking below:
April 2002
January 2003
April 2003
November 2004
Our newsletters from the period April 2002 to November 2004 indicate the excellent progress being made by Wrexham Squash in support of our local juniors but are interesting also in showing how, from a very young age, some of those juniors were starting to prove themselves on the bigger squash stage, in particular Rob, John and Llinos Evans, Emily Jones, Jack Whelan and Hannah Davies.
More of our juniors and their achievements later.
Part of our concern in December 2002 was an acknowledgement that facilities at the Phoenix Club were insufficient in dealing with a cohort of 38 juniors, however, we did hope to work this through in a meeting that was being arranged with Alan Watkins, Head of Leisure Services at Wrexham Borough Council. At this time we had even considered an option that would have seen squash reinstated at Brymbo !
Consequently, our Committee agreed a position as follows:
"Wrexham Squash wishes to promote the further development of squash in the borough, however, as an organisation we would hope to do this in partnership with Wrexham Borough Council, to maximise use of existing facilities within the Borough. "
In 2002, Wrexham Squash began to purchase equipment for use by our juniors. Also, and most importantly, there was a requirement for members of the committee and those directly involved in coaching to undergo all necessary clearance with the Criminal Records Bureau, based on advice from colleagues at the Sports Council.
To enable Wrexham Squash to access any grants / funding, it was clear that we would need to become a properly constituted body and, in September 2002, our (first) Constitution was agreed. No funding body would even begin to consider us without this in place.
Membership to Wrexham Squash was available as a one-off fee of £10 per junior (£16 where there are two juniors in one family), they were then eligible to participate in our formal coaching arrangements, through either the Centre of Local Development and / or Club Night sessions, as well as the occasional representative friendly matches the Club arranged during the season with other Junior Clubs across North Wales and in Cheshire.
In January 2003, we extended our scope with the first COLD sessions being held at the Queensway Sports Centre - initially, this first programme was agreed for 12 weeks. We also sent out invitations for all our juniors to attend the first Club Night, held on 13 January.
The Wrexham Schools Squash Programme started in September 2003 - an inaugural 5 week course with 36 Year 4 pupils from Wats Dyke Primary School. Queensway was the venue with the children split into two groups having one session per week lasting approximately one hour. Two coaches were involved and teachers were on hand to help if required.
Twenty-seven of these juniors accepted an invitation to take part in another 6 week coaching session from November – December 2003 at Phoenix. This is part of the Wrexham Squash ongoing junior programme backed by Squash Wales.
Looking back, it is interesting also to see the number of people interested in gaining a formal coaching qualification and how the Squash Wales coaching structure was being embedded through the Centre of Local Development (COLD) and Centre of Regional Development (CORE).
During this time we were also developing a good relationship with Wrexham Council's Sports Development Team, getting involved with such initiatives that were designed to encourage more girls into sport. We were also fortunate to gain grant funding for our coaching with schools through Sportslot.
Wrexham Squash was even nominated in the local annual Sports Awards as "Club of the Year" and, while we did not win, it was good to be associated with such a high standard of voluntary working and all concerned felt that the nomination alone (by Wats Dyke CP School) was a tremendous boost for what we were trying to achieve.
As the Club progressed, we were keen to work with Wrexham Council's Sports Development Team using their introduction into local schools and, during 2004, our Committee members took a long hard look at the situation on the ground for Wrexham Squash and its prospects for the future. This resulted in the preparation of a discussion document, published in December 2004, "The Way Forward for Squash in Wrexham".
You may be interested to have a look at this document; it considered all of the issues that were being faced back in 2004 some of which, interestingly, still have resonance today e.g. how do we get the most out of our coaching sessions to fully stretch and motivate all of our juniors !
"The Way Forward for Squash in Wrexham" - December 2004
Our talented juniors ... the reason we continued.
Because of the achievements by our juniors, the Club could see how an organised coaching structure was benefiting the Wrexham Squash members. During 2003 we were proud to shout about the following:
There was a great start to the year when, in January, at the Newport Open John Evans won the Under 13 Plate competition while Hannah Davies finished 3rd and Llinos Evans 4th in the Under 11 competition.
The Welsh Open was held in March 2003 and the following was noted:
Jamie and Adam Holland played in the Under 17 and Under 15 sections with both performing extremely well against opposition from across the UK, Europe and South Africa.
Jack Whelan in the Under 15 event reached the Quarter Final of the Plate with a consequence that his results were likely to place him in the Welsh rankings at the Under 15 level. At that time, Jack was probably the most improved player at the club and his results during 2002-3 were achieved through much hard work.
Hannah Davies finished 3rd in the Girls Under 11 event and possibly should have reached the Final having been 2 games to 1 up and 5 – 0 up in the 4th game. Alas, the occasion took over and Hannah eventually lost 3-2.
During the winter months of 2002-3 the Club arranged several friendly matches against juniors from Holywell, Bethesda and Saints; all enjoyed visiting these other Clubs and performances from the Wrexham group were very encouraging.
In September / October 2003, Wrexham Squash held its inaugural squash coaching sessions at Queensway Sports Centre over 5 weeks for pupils at Wats Dyke Primary School, in association with Wrexham Council and the Headteacher.
This led to us offering those interested the opportunity to join our first 12 week block of coaching at The Phoenix Squash Club as part of the Wrexham Schools Squash Programme, building on the experience gained from our coaching programmes to Wrexham Squash members over the previous twelve months.
A second taster session with another group from the Year 4 cohort at Wat's Dyke School commenced in November 2004 at Queensway and plans were being made with a view to starting something similar with Alexandra School in January 2005.
Wrexham Schools Squash Programme - Wats Dyke 2004
On 6 / 7 November 2004 we held the first ever Wrexham Junior Closed Squash Championship at The Phoenix Club. The event was kindly sponsored by Russell and Ann Evans with entries open, in the Boys Events (Under 11, Under 13, Under 15, Under 17, Under 19) and for the Girls Events (Under 11, Under 15, Under 19).
See the Roll of Honour below:
2004 Junior Closed - Roll of Honour
Also during 2004, as part our getting organised, we were fortunate in having great support from many of the parents and, in particular, from John Williams whose company generously paid for our juniors to have new Club shirts. This was super for the juniors particularly when they travelled to play other Clubs.
Click below to see John with some of junior members:
John Williams sponsors Club's shirts
Some more early photos of the Wrexham Squash members:
Our Under 15s visit St Melyd SC - January 2004
2004 North Wales Under 15s League - Winners and Runners Up !
West Wales Open Under 10 and 11 Winners 2005
Picture gallery from the (first) 2004 Wrexham Junior Closed Squash Championship: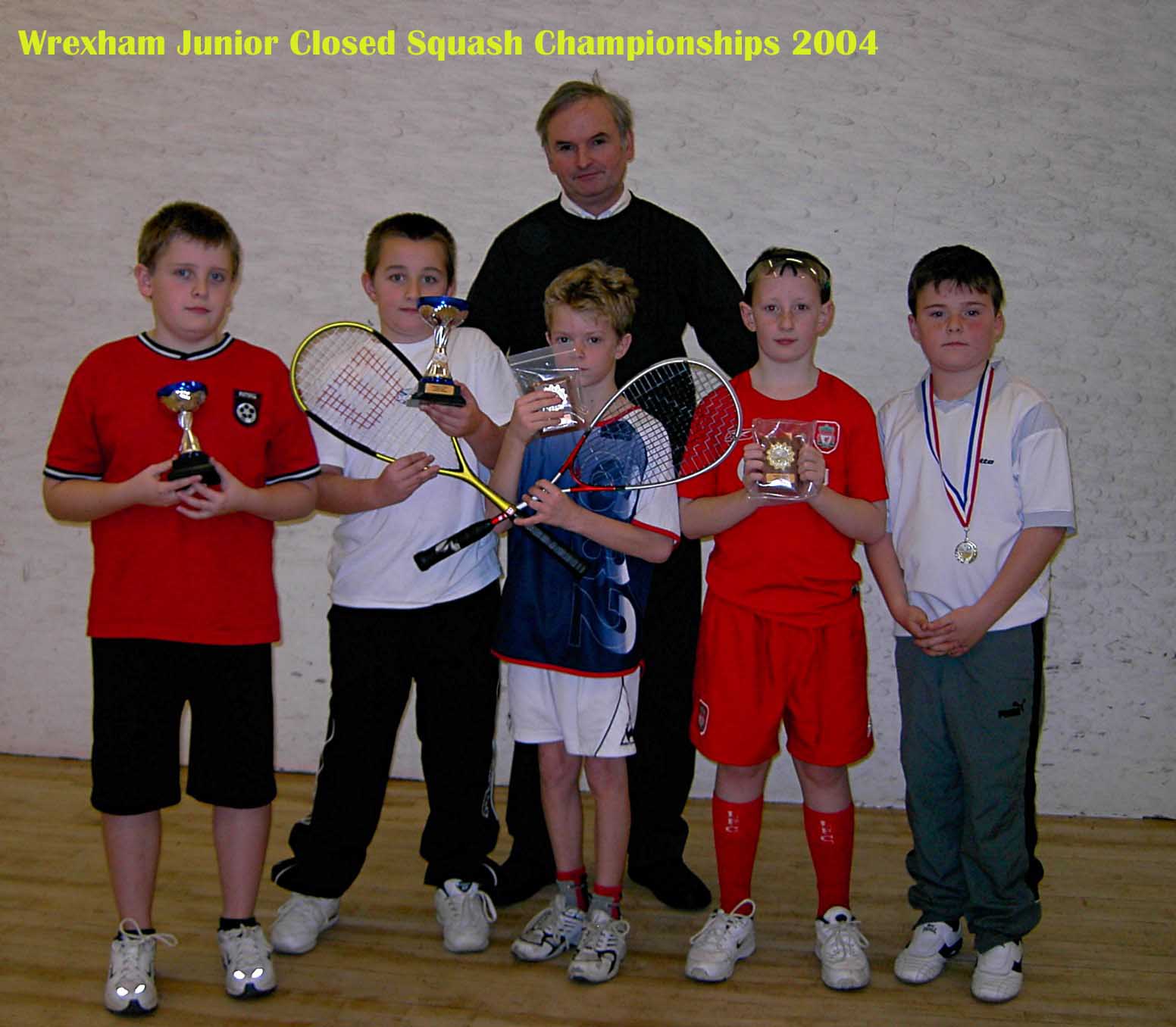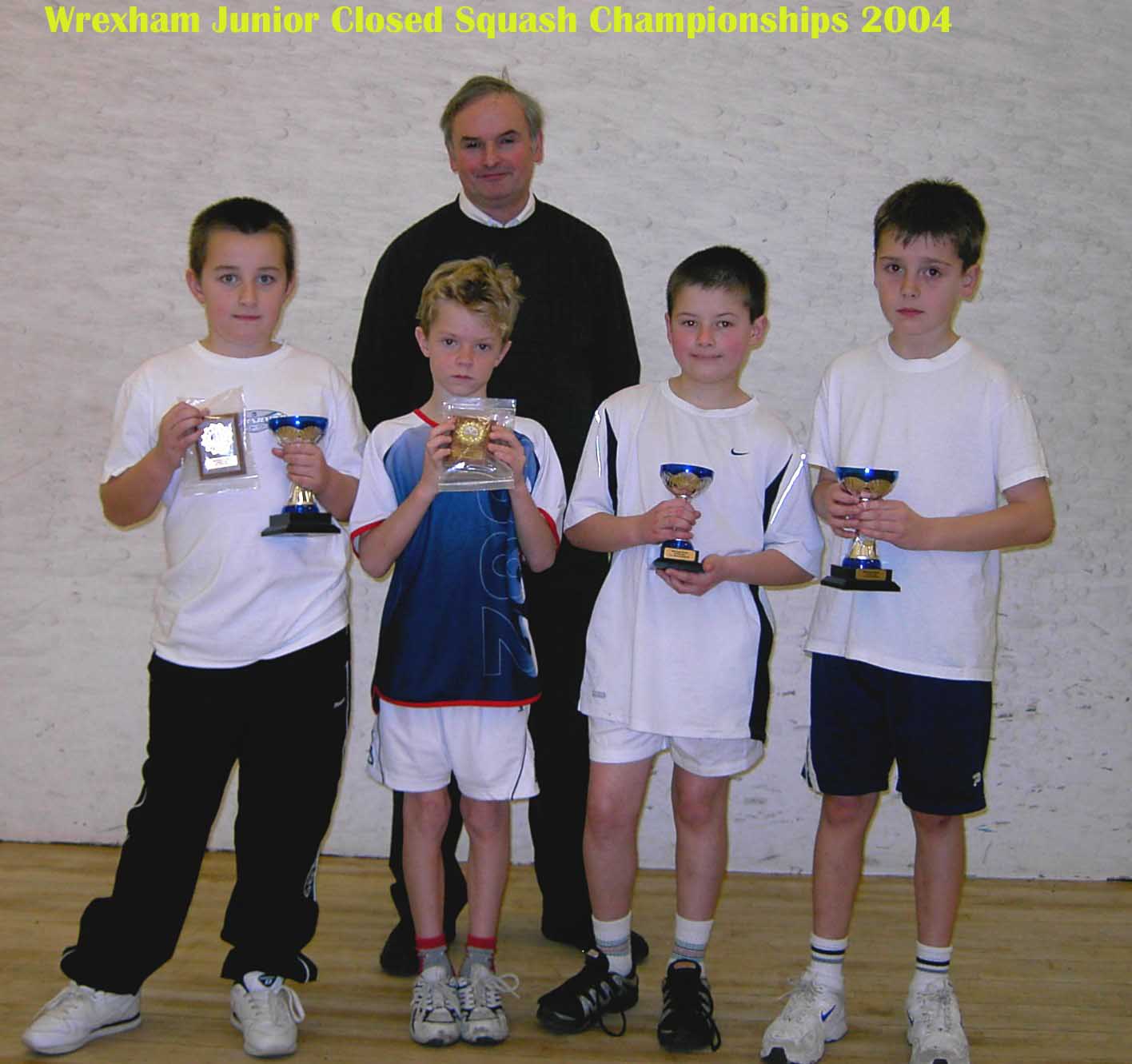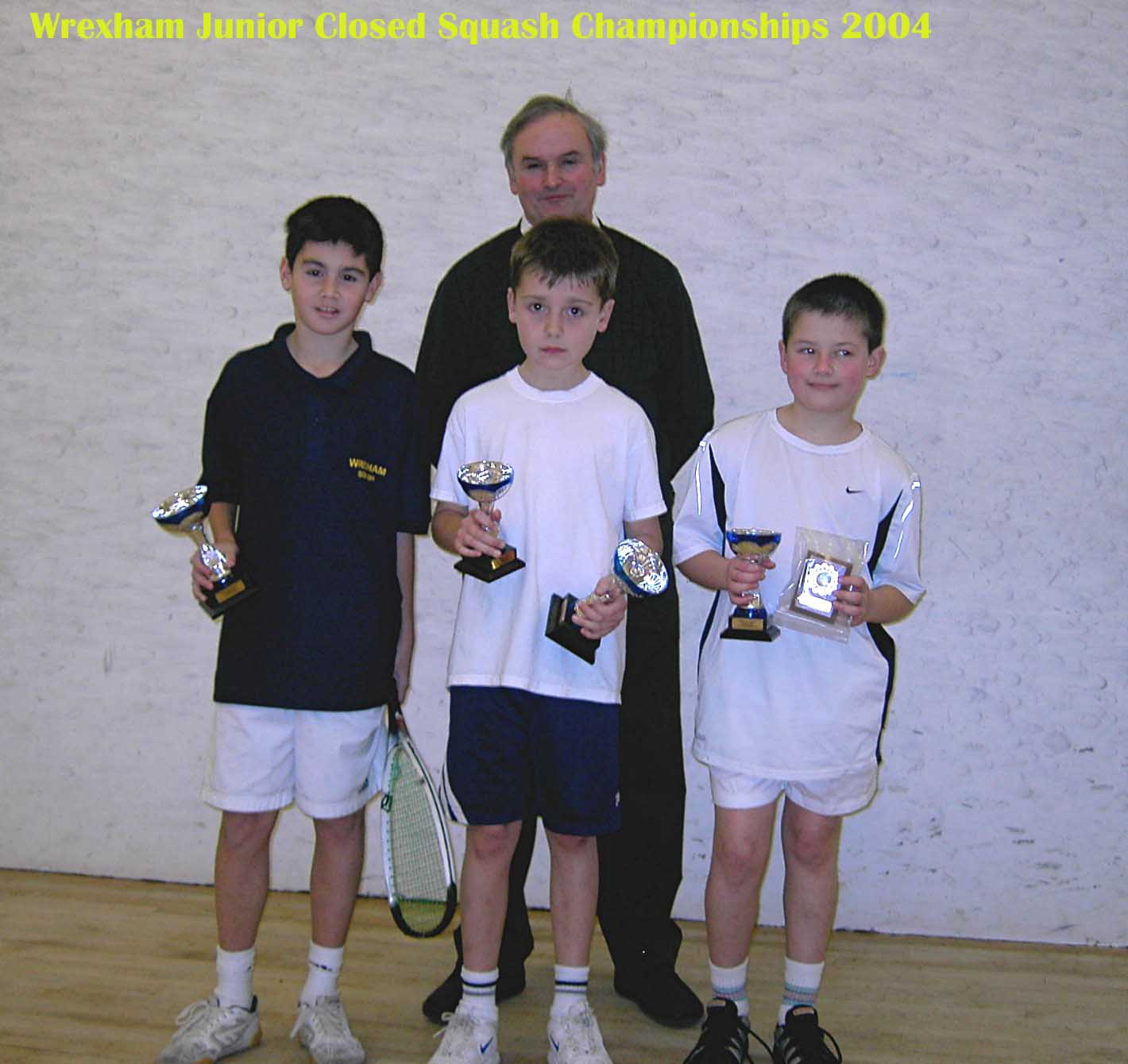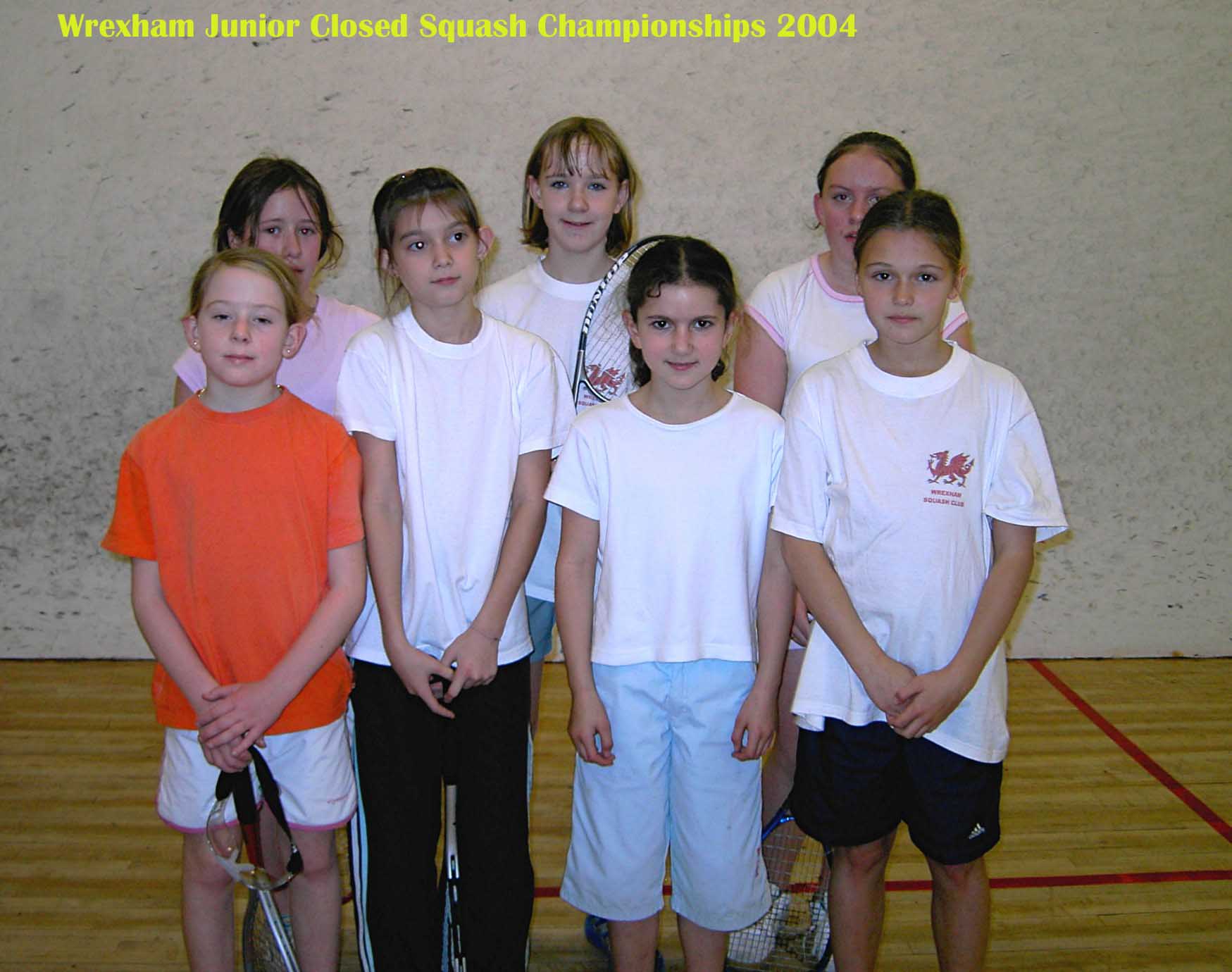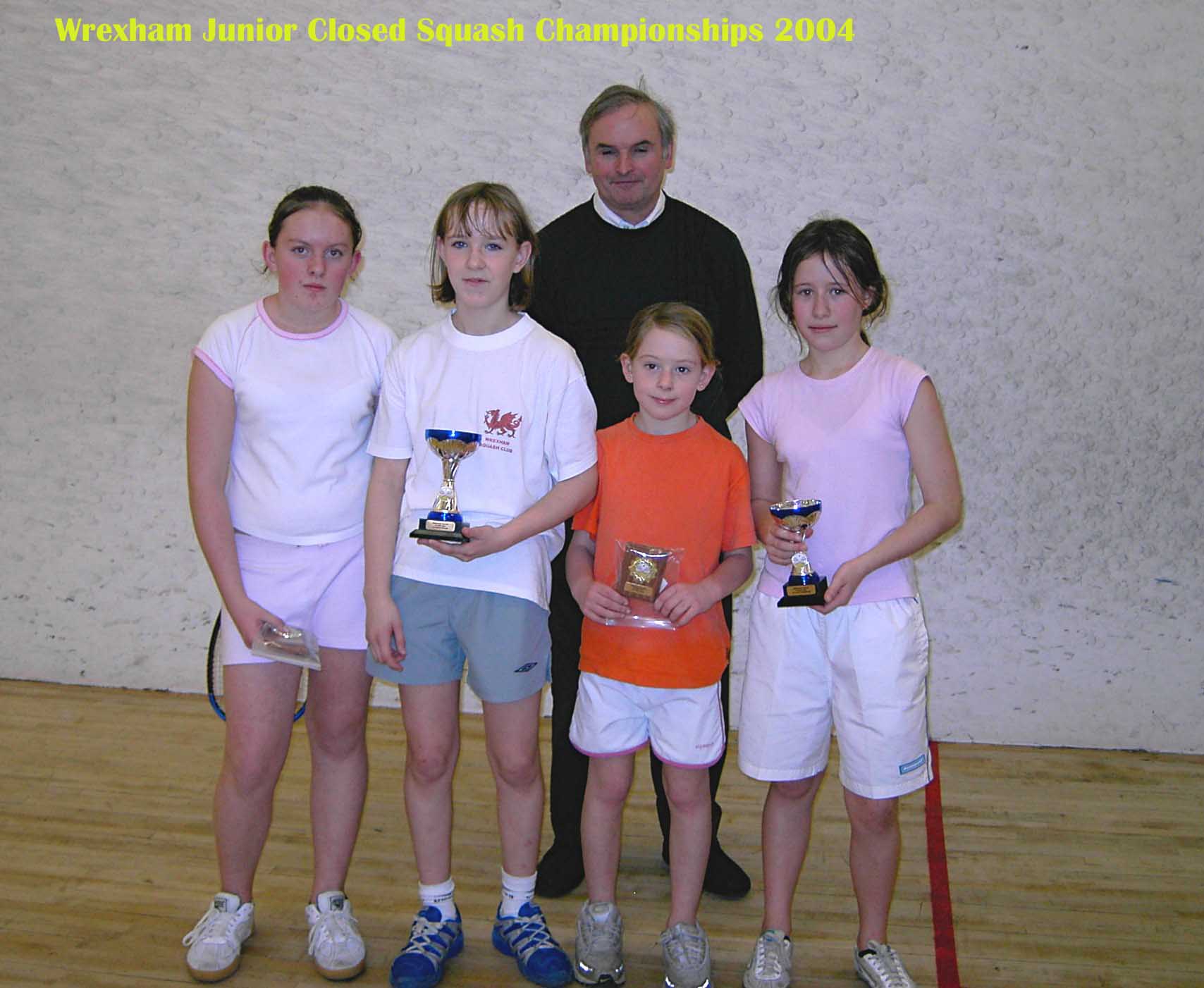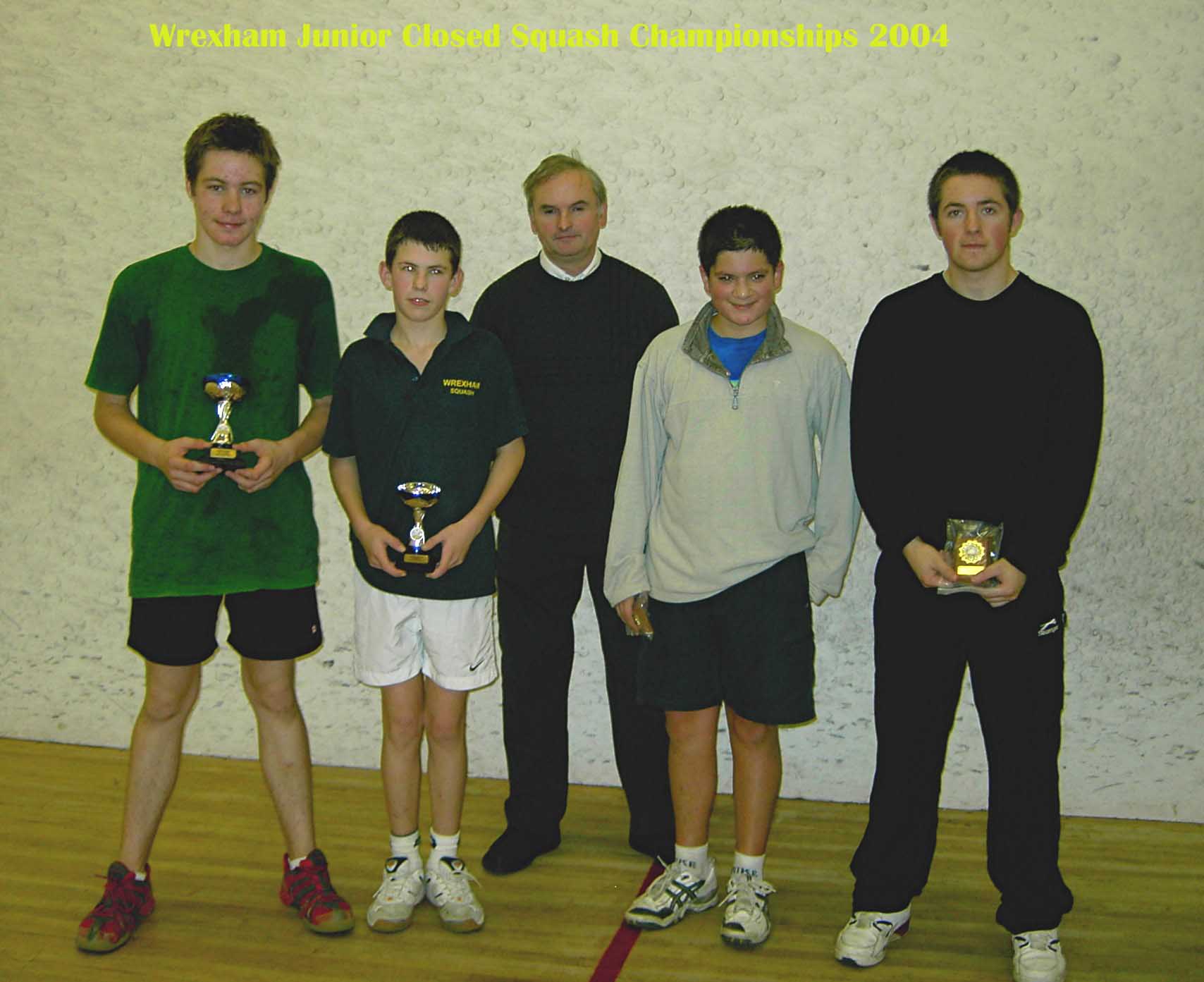 The closure of the Phoenix Club caused huge problems both for the Squash Club and Wrexham Squash. The following schedule indicates some of the disruption we had to manage:
The impact of Phoenix Club closure - December 2005
During 2004-5, the Wrexham Squash Committee members were looking to expand and when The Phoenix Club was closed by our landlords (NEWI), we took the big decision to approach the Brymbo Sports & Social Club Directors for the opportunity to utilise their old squash courts. At that time, this facility was being used as for storage and was in a very sorry state. Much refurbishment work was required but we knew that the Directors were very keen to get the building back into some use and to achieve an income.
By December 2005 we had been round the Brymbo Club to make a quick assessment of what may be required and were now prepared to make an initial approach and expression of interest:
Wrexham Squash proposals to Brymbo Directors - December 2005
By January 2006, the Brymbo Directors had considered and accepted our proposals (we had been in competition with Wrexham Boxing Club) and set about getting quotations for the necessary work, as well as some in principle support from bodies such as Squash Wales, the Sports Council for Wales, Wrexham Council, local Primary School Headteachers, the North Wales and North West Counties Squash Leagues.
Their response was excellent and all seem to agree that a proposed expansion of the Brymbo Complex would ensure that many more children have the opportunity to enjoy playing squash in a comfortable environment with superb facilities ensuring the future of squash in Wrexham and ultimately Wales.
After a year of planning, obtaining various written evidence for such as the lease, financial information, community support and quotations for all elements of the work required, by September 2006 we were in a position to submit our Capital Grant Application for the refurbishment of two squash courts to the Sports Council for Wales. A small core of individuals worked with officers from the Cardiff based Sports Council and eventually achieved an 80% award of £10,000 towards all of the work. We spent about £13,000 in total, with the balance of funding being raised locally and through direct voluntary help.
The refurbishment work started after Christmas 2006 through January and February and we were looking towards a Saint David's Day opening for the new Wrexham Brymbo Squash Club.
The role of our volunteers and the small band of people who maintained their vision for the new Squash Club cannot be under-estimated; the expression that without their support this would not have happened has never been so true - our thanks to them all.

See pictures of some of our volunteers in Year 2007 !